Towing with a 4x4 - All you need to know
We've got all the information you need when it comes to towing with a 4x4 this summer.
Summer is just around the corner and what better time to hitch up the caravan and heading off for an adventure. Throughout Australia, 4x4's are gaining popualrity and more people are choosing to go camping or caravaning instead of overseas travel. Whether you are towing a family-sized caravan or a small camper trailer, using your 4x4 is a good start. 4WDs have many benefits when it comes to towing, as they are heavier, have better-towing capacities and will handle towing a trailer much easier than your average vehicle. Plus you have the benefit of heading offroad without any issues.
Firtly, lets talk safety. It's so important to check your equipment, vehicle, recovery items, towing weight and your vehicles ability to tow that weight to ensure you and your family are safe on your travels. Ensure all your gear is good quality or heavy-duty, and check for rust around your towing equipment. Now let's look more about how you can safely tow with your 4x4.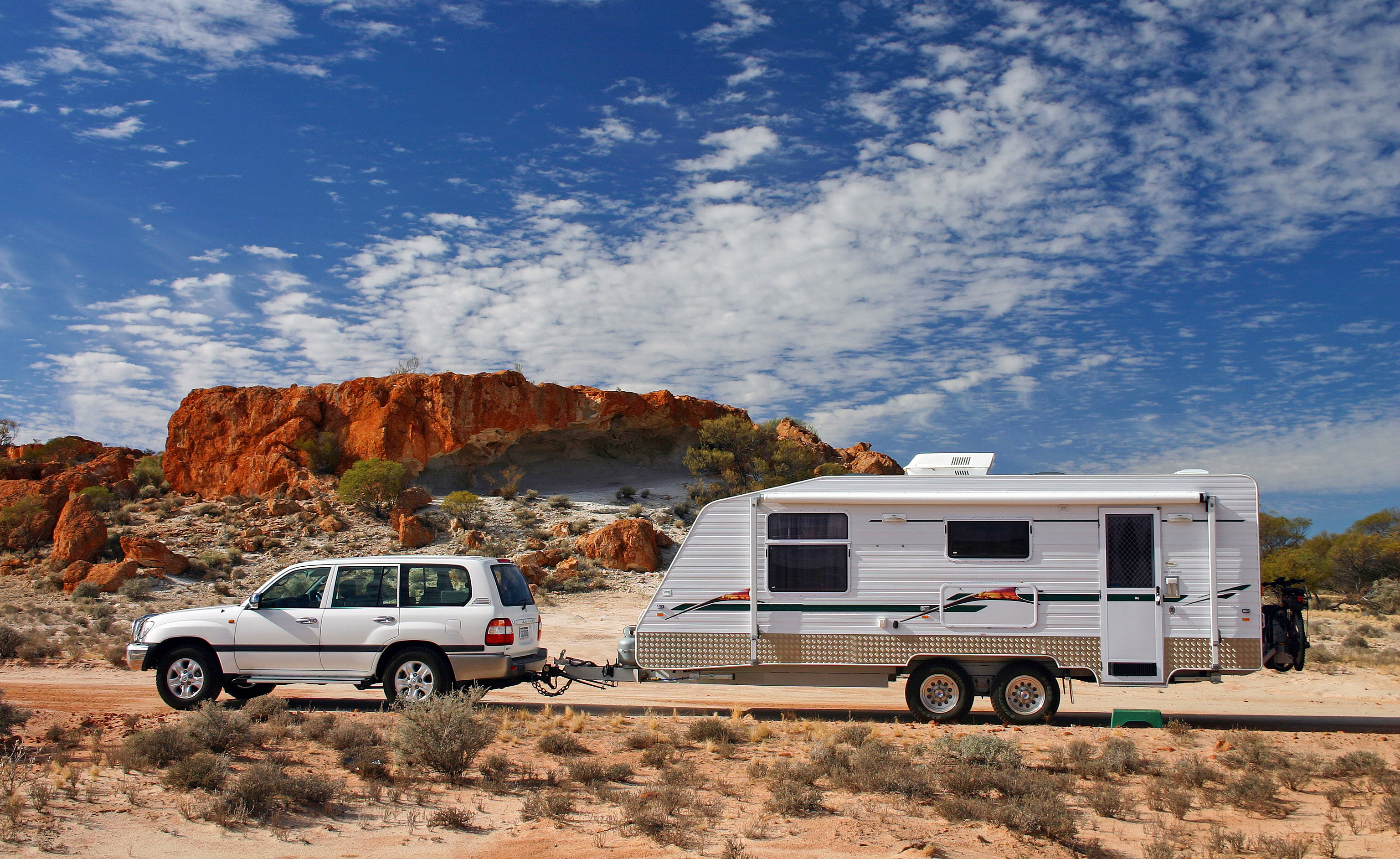 Weight Requirements
It's essential to know your weight limits, and this is sometimes overlooked but an is such an imortant part of towing with your 4WD. Most cars have an official towing capacity, which is declared by the manufacturer and refers to the maximum trailer or caravan ATM (Aggregate Trailer Mass - this is the tare weight of the caravan plus its maximum payload when uncoupled from a vehicle, also known as gross trailer weight). This is the maximum weight a vehicle can pull efficiently while remaining stable. When refering to towing capacity, this is based on things such as the your 4x4 vehicle's power and torque, rear-axle strength, frame durability and even the grip of the standard tyres. Now let's quickly discuss what braked towing capacity means and the difference between unbraked towing capacity. This is important to know for your individual 4x4 for safety reasons.
Braked towing capacity: This is the most common figure, and refers to the ATM of a caravan which has its own brakes.
Unbraked towing capacity: This figure refers to towing a trailer without brakes and is usually significantly lower than the braked towing capacity because the vehicle has to absorb much of the braking force.
OK, so now we have that sorted, I will mention that these figures are vitally important to know before you head out towing, as you are required by law to stay within the manufacturer's engineering limitations for both your 4x4 and your caravan or trailer. Heading out towing with the incorrect figures for your 4x4 vehicle could result in big fines.
If you're towing something light such as a boat trailer, box trailer, a small compact caravan or the likes, you may not need to worry about the towing capacities. However, if you're towing anything more than 750kg, you should do your research into the correct towing capacities for your 4x4. Your 4x4's owner manual should specifiy the weight requirements for your 4WD, trailer and total weight. We also recommend hitching up to your 4x4 and heading to your local weigh bridge to get an accurate figure of your total weight.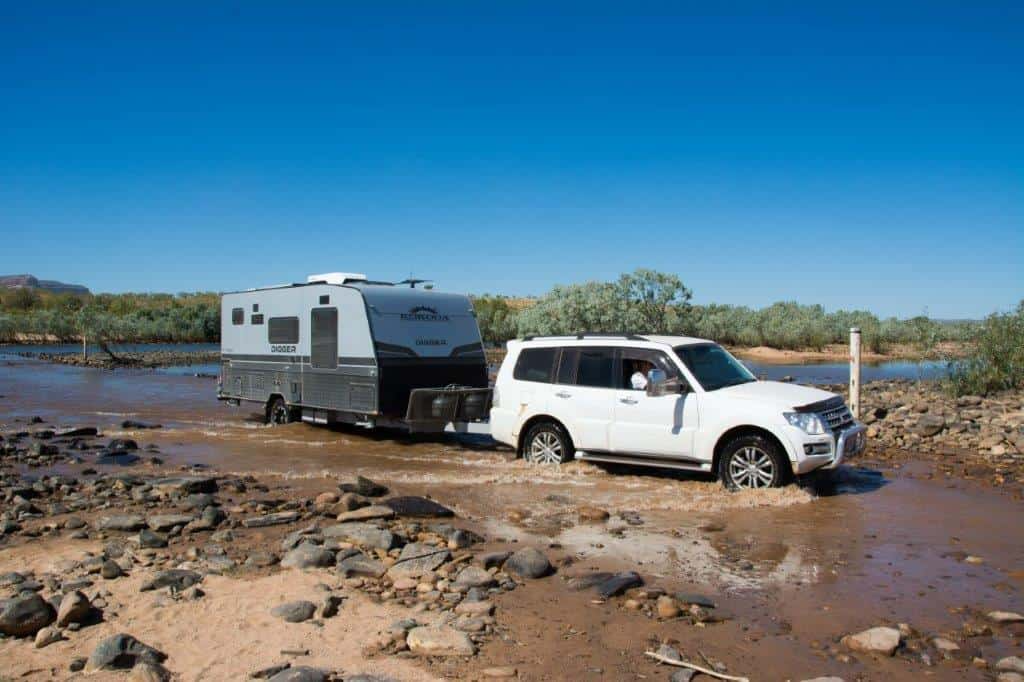 Vehicle Weights
You may have heard of some phrases such as GVM and GCM and don't understand what they mean, let's check below what these terms mean and how they affect you and your safety when towing with a 4x4.
Gross vehicle mass (GVM): The maximum weight your 4x4 can weigh when fully loaded up. This includes your tow ball weight on the caravan or trailer, along with all your accessories, fuel and additional fuel tanks, passengers and all your camping gear inside the vehicle. It's very easy to go over your GVM, so again we recommend heading to your local weigh bridge to weigh your 4x4 fully loaded.
Gross combination mass (GCM): The maximum weight of your 4x4 and caravan's combined weight. Again head the weigh bridge, drive on with both car and trailer and check the weight.
Kerb weight: This is the empty weight of a vehicle with a full tank of fuel. It doesn't include passengers, luggage and accessories such as bullbars and roof racks.
Tare weight: This is the weight of an empty vehicle with all of its fluids but with only 10 litres of fuel in the tank.
Towing capacity and Tow Ball Weight
Every 4x4 vehicle comes with towing capacity. You can find this in your owner's manual. For most new 4x4's, the maximum towing capacity is 3500kg, but there are a lot of 4x4's which have much lower capacities, so you always need to check before hitting the road. Make sure your caravan doesn't weigh more than this or you will have a problem. We also strongly recommend avoiding towing a trailer or caravan that weighs more than your 4WD.
Your 4x4 also comes with a maximum tow ball weight. This is usually limited by the manufacturer, so you can check this in your owner's manual. The other way is by the towbar itself. This varies considerably, however this figure can range from 100 – 400kg depending on which 4x4. For example, a heavy duty towbar for a Toyota Hilux weights 350kg.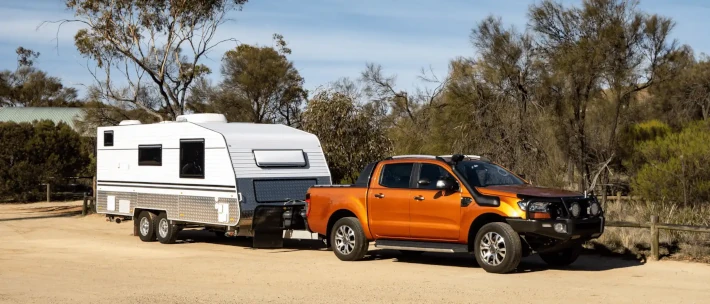 Balancing your Load
This is so important! Too many people have had nasty accidents by not balancing their weight evenly over your 4x4 truck and caravan or trailer. Ensure the majority of the weight is as close to the axles as possible. Very large caravans and trailers should be weight distributed as evenly as possibly to ensure they are balanced, preventing any sway issues on road. We recommend having approximately 6 – 12% of the weight of the caravan. Ensure heavy toolboxes or 4x4 gear be placed at the front of the caravan close to the tow ball to prevent sway.
Have a hitch and unhitch process
Have you even seen someone drive off with their jockey wheels down, or hand brake engaged? So dangerous. Why not create an easy to remember hitch and unhitch process which is impletmented each time you hitch or unhitch your caravan from your 4x4 truck. Have a checklist that you can follow each and every time to ensure you don't forget anything and keep safe. here are some check points we recommend adding to your hitch and unhitch process;
Have you disconnected your water and power?

Is the awning in and secure?

Are all the doors shut and securely latched?

Are the safety chains on?

Have you picked up the chocks?

Is the hitch secured and breakaway cable connected?

Have you checked if the lights work?

Is the jockey wheel up and secure?

Is the hand brake in the correct location?
Look, this may take you 15 minutes or more to complete, but at least you know your caravan, 4x4 and passengers are safe.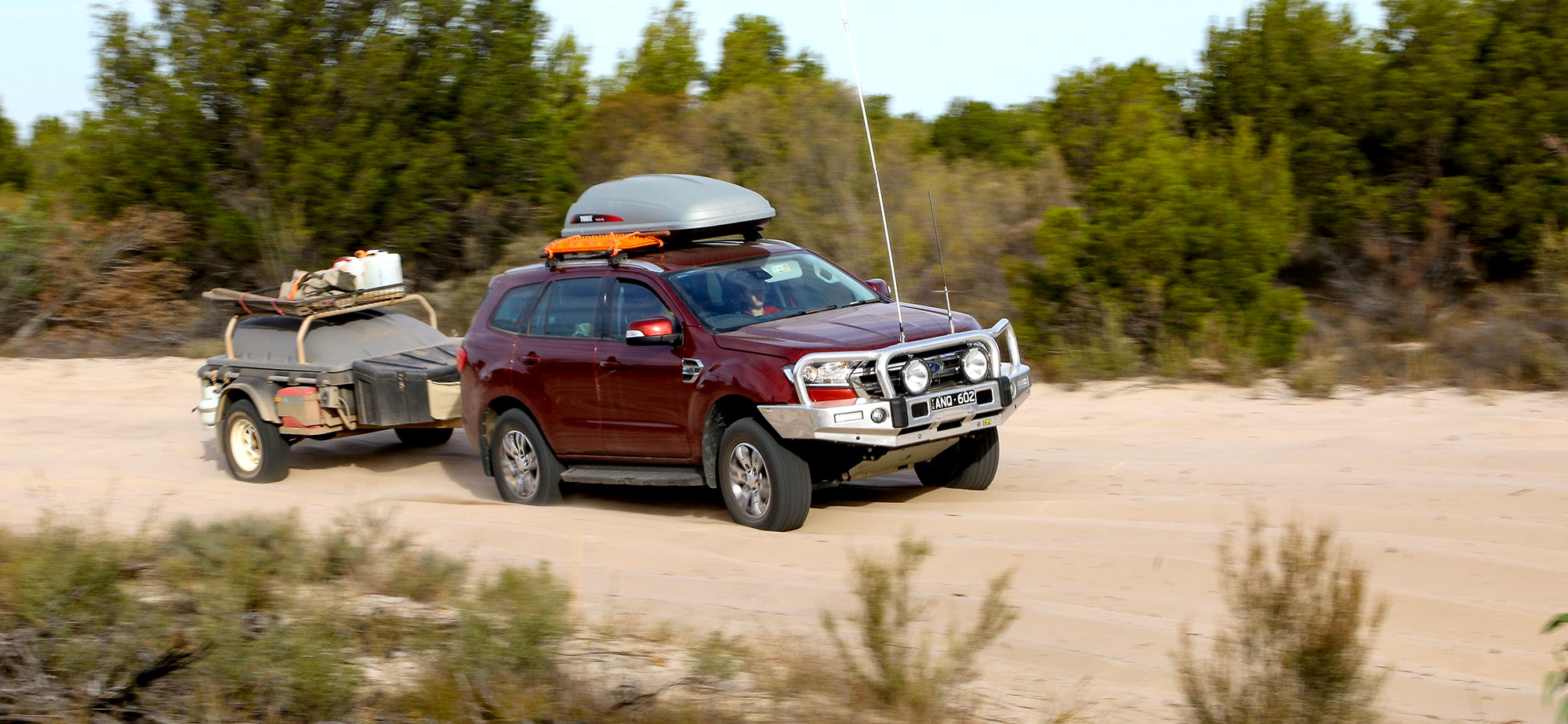 Suitable Towbar, Tow hitch and Wiring Harness
Some 4x4's don't come from the factory with tow bars, or the right hitch, or even the wiring in place to make your trailer lights operate. Before towing a trailer, make sure your 4x4 vehicle has the right hitch, wiring in place and a suitable tow bar for the weights towed.
We stock a wide range of towing equipment and Australia's leading towbar brands including TAG & Brink. Our range includes lightweight towbars, heavy duty towbars for larger towing such as caravans and tool trailers, and recovery towbars for those looking for some for extra strong towing capacity with additional tow recovery points.  We also stock a vast range of hitches, towballs and wiring harnesses.
Towing Accessories
Brakes
Let's talk brakes. Any trailer weighing over 750kg must have brakes. There are two different kinds of breaking systems such as mechanical using the hitch or Some use a mechanical system where the hitch moves in and out or electronic brakes, which is activated by the vehicle towing the trailer. You will need an electric brake controller fitted to your 4x4 truck. If you haven't used an electric brake controller before, have a practise before heading out into the Australian outback to ensure you know how to activate them.
Suspension
Have you even seen a 4x4 truck towing a trailer with its headlights pointed up the sky and the rear of the caravan nearly touching the road? Well we call this poor load distribution. Other factors include incorrect hitch height or the wrong suspension that is not suitable for the load you are towing. You 4WD vehicle and trailer should be sitting level when hitched and loaded. Ensure you check this before taking off for your adventure. We have the right springs and suspension for the job to make sure you and your family is safe on the road.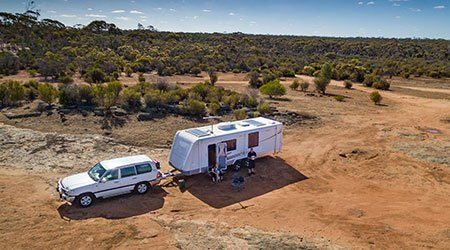 Conclusion
So much has been covered in regards to towing with a 4x4. Whether you're heading off road or to a caravan park, ensuring you're safe and informed when towing your caravan or trailer is so important. There are a lot of vehicles on the roads in Australia and it's only getting busier coming into the holiday season. Whether it's a 4x4 towing a caravan or a truck towing a trailer, let's be safe and respectful on the road. Tow at a safe speed, safety check all your equipment before leaving, wait to overtake in safe and signposted areas and always check your mirrors. There's certainly nothing better than hitting the open road on a long-awaited holiday, stay safe and respect others.
Here are some additional links that may interest you;
Find out more about Electric Trailer Brakes.