Meet the new LandCruiser 300
Find out all you need to know about the new Toyota LandCruiser 300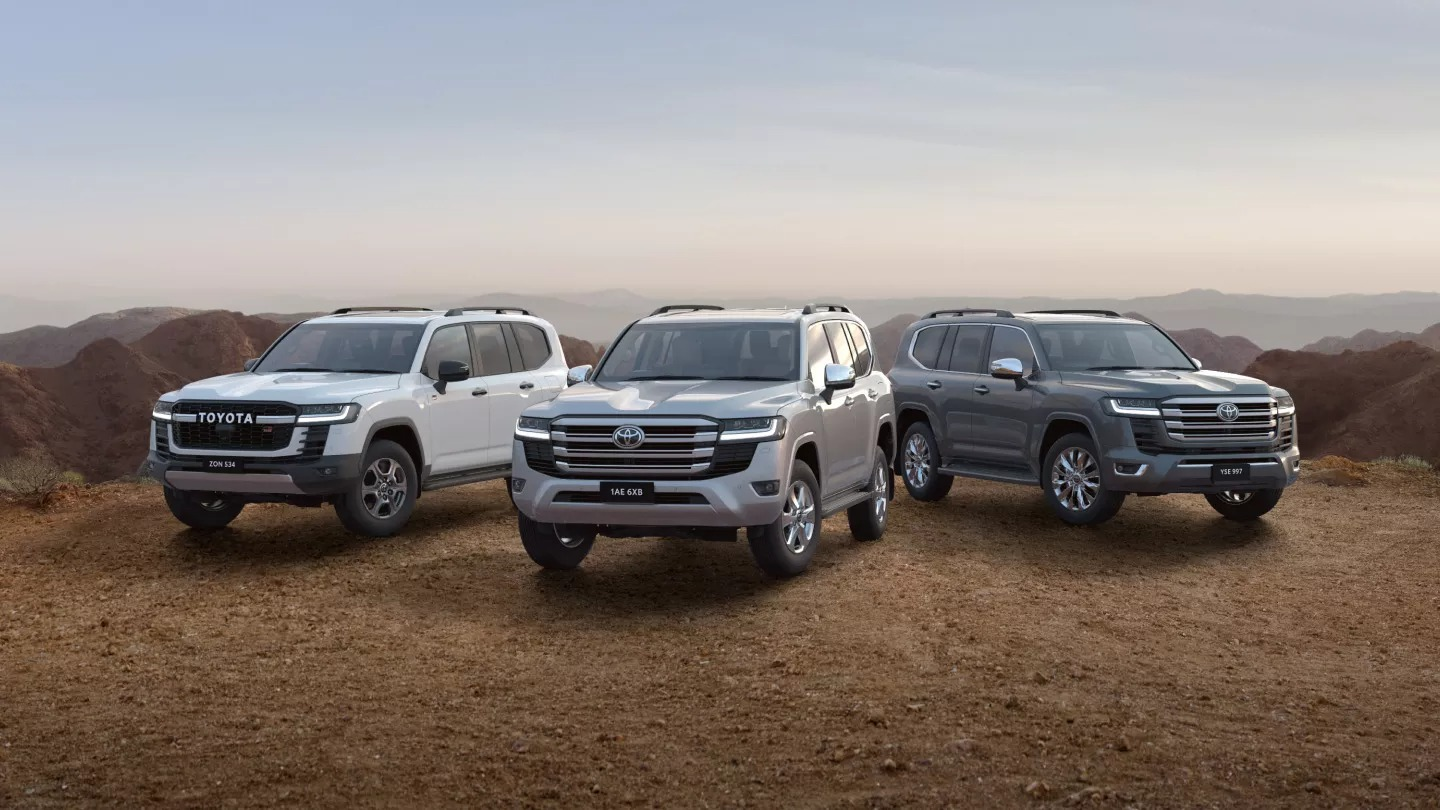 Welcome to the new Toyota LandCruiser 300 which has certainly raised the bar again and is bringing so much more to the Australian Toyota car market. Packing much more power and more capability, this tough looking vehicle is also boasting enhanced luxury and driving technology.
The brand new Toyota LandCruiser 300 comes a mega 3.3L twin-turbo V6 diesel engine, which delivers 227kW and 700Nm making it the most powerful diesel LandCruiser yet. The all new design of the 300 truly refines the LandCruiser look, boasts an attractive new body, all while remaining tough both inside and out. The new Toyota LandCruiser 300 brings you nothing short of state-of-the-art technology, which is focused on intelligent safety and enhanced connectivity. You can feel safe driving around town to work or around Australia with the family. The new Toyota Landcruiser 300 comes in a range of attractive colours including the ever popular eclipse black and graphite. New levels of functional luxury mean even the most rugged journeys are smoothed out. We can confirm, you won't want to miss out on one of these!
Toyota LandCruiser 300 models
The new range Toyota LandCruiser 300 comes in six different models which are available in Australia. Starting at the base model and moving up, there is the GX, GXL, VX, Sahara, Sahara ZX and the GR Sport. The GX is the base model and makes light work of any off-road adventure. The GXL comes with enhanced technology, safety and styling, as well as basic dealer inclusions. The VX model Toyota LandCruiser 300 goes that bit further, with premium interior and exterior touches. It adds extra comfort and convenience to your journey, adding that luxury touch. The Sahara makes driving a pleasure, whether you drive it on road or offroad. Drivers and passengers are treated to comfortable luxury with additional accessories. This is the first time the Toyota LandCruiser has seen the Sahara ZX model and with this car, it gains extra performance features, specialty ornamentation and extra touches of luxury and convenience in both trim and technology. The GR Sport model is designed with the extreme off-road racing in mind, however it certainly maintains award winning levels of comfort and luxury throughout. All accessories and features may vary depending on the model and come with optional extras.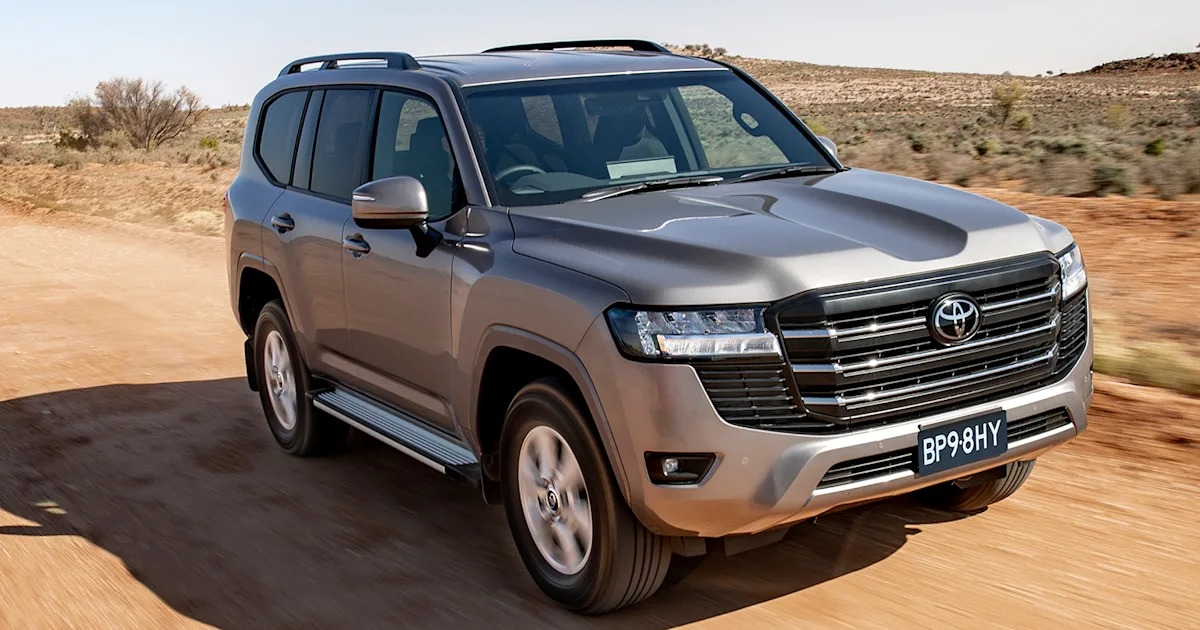 Toyota LandCruiser interior
Toyota has equipped its brand new LandCrusier 300 with all the latest gadgets, new technology and premium gear. The interior is decked out with luxury materials and functional, but comfortable design. The new look centre console display features a redesigned drive-mode selector (available only on GX models and above) in a great location. It also has drive-mode and off-road functions at a fingers touch, as well as a convenient parking brake and of course, a pair of cupholders, which makes it great for the price.
The new Toyota LandCruiser 300 has cleaverly grouped all dashboard switches and have displayed and positioned them according to function. So now the actual driving mode functions are grouped on the driver's side of the centre console. This makes so much sense, is easier to see and is an excellent upgrade and good value for price. The expansive screen display is complemented with 3D digital instruments along with analog dials, vehicle data and multimedia information. For more vehicle performance, why not get an Elitedrive Power Module for the new Toyota LandCruiser 300. It simultaneously raises fuel rail pressure and available boost, safely creating more power and torque from within the reserves of your engine. Enjoy more power every time you drive and make towing a breeze!
Another great new feature of the new Toyota LandCruiser 300 is the air conditioning systems. They now come with an impressive volume knob, along with ample air outlets wherever you are based. This is really needed when sitting in the far back of a 7 seater. The Toyota LandCruiser 300 also has plenty of useful and actual switch gear. These may vary depending on the model.
The seats on all models have been updated for improved support with bigger side bolsters. Second-row seats now feature a reclining function and lots of extra legroom. Five-seater Toyota LandCruiser 300 versions come with 1131 litres of storage capacity and the seven-seat models have a wopping 1967 litres of actual storage capacity when both rear seats are folded.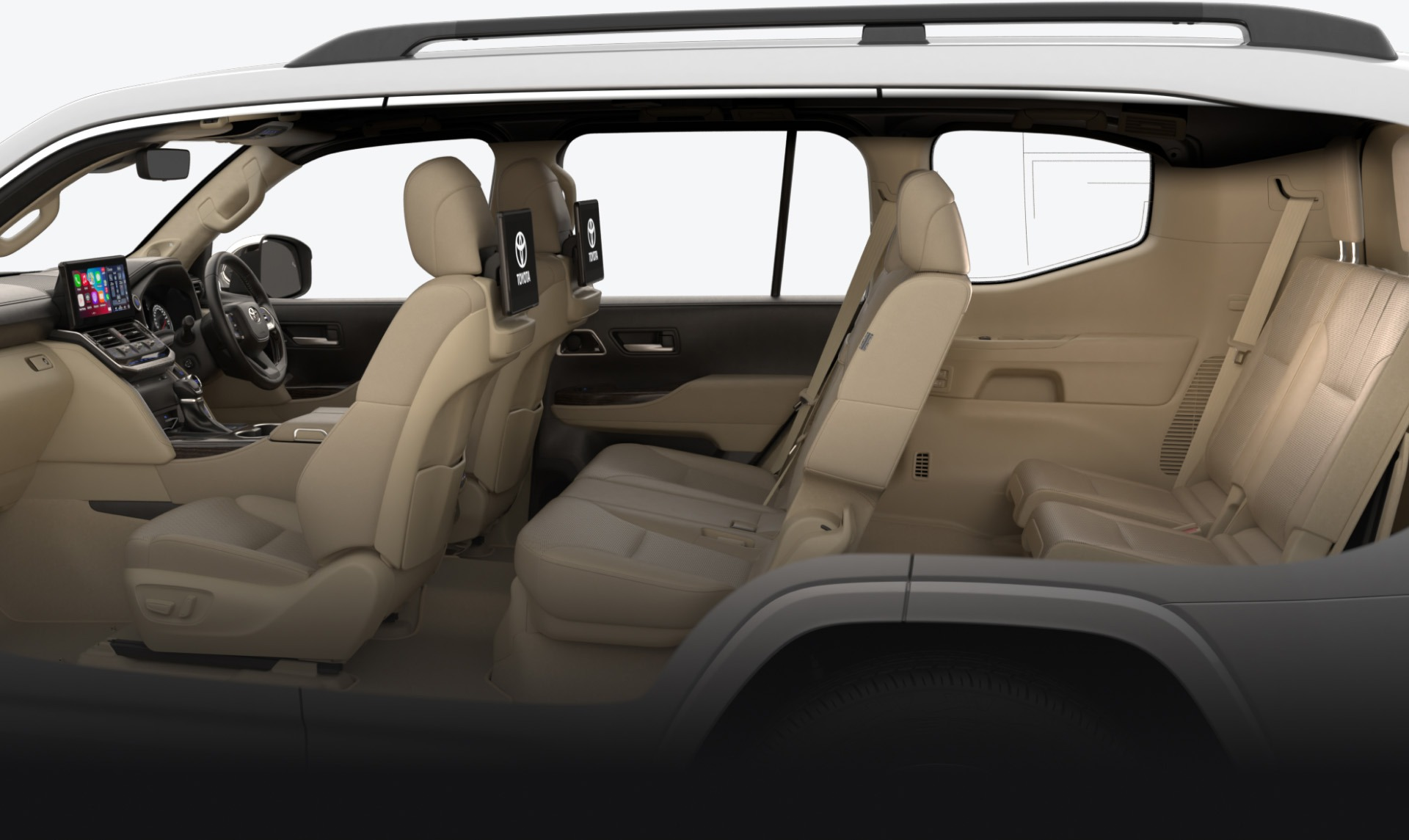 Toyota LandCruiser 300 Exterior
The base model for the LandCruiser 300 is the GX model is the base and is designed for the perfect work horse or 4x4 vehicle. It consists of two fuel tanks (80L main and 30L sub tank) with a total fuel capacity of 110L. All vehicles still use a full-time 4x4 system with lockable centre-differential. The suspension design of the Toyota LandCruiser 300 is comprised of front double-wishbone independent suspension, and a four-link rigid axle in the rear. This may vary depending on the model.
If you plan on taking your Toyota Landcruiser off-road, then we recommend upgrading your suspension to the Airbag Man Air Suspension Coil Helper Kit which is suitable to the LandCrusier 300 models. The Air Suspension kits utilising Firestone Airbags are designed to fit inside the existing coil springs to provide front to back & side to side levelling control to a vehicle when towing or carrying uneven loads. This enables you to "Level up" once the load has been added by simple inflation & deflation through the actual inflation valve facility that is supplied standard throughout all Air Suspension kits (same concept as inflating & deflating your tyres via the tyre valve). Larger ventilated disc brakes are also found front and rear, with hydraulic variable power steering retained on GX model.
Toyota LandCruiser 300 Accessories
The 17-inch wheels are standard on GX spec, as are LED headlights and a raised air intake. Fabric seats are standard, as is vinyl flooring and rubber floor mats. Speaking of seating, there are only five seats in GX spec, with a 60/40 split. Dual-zone automatic climate control with rear-facing ducts is a nice feature, as are six cupholders located throughout the interior.