What are the best car seat covers for a 4x4?
Looking to protect your 4x4's seats? Look no further, as we have all the information you need to help you decide which car seat covers are the best for your 4x4.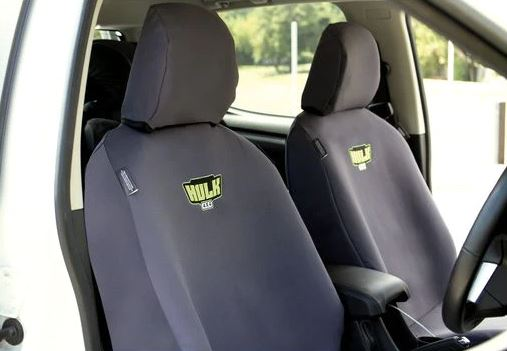 We spend a lot of time sitting in our 4x4's travelling around Australia. Whether you are driving along a dirt track in the middle of the outback, heading down to the local beach, the daily school run or driving your 4x4 ute around town, wear and tear from daily use is certainly a part of owning a 4x4. Whether you own a Ford Ranger, Toyota Hilux, Holden Colorado or Mazda BT50, one of the most overlooked parts of wear and tear on your 4x4 is the interior. If you have kids or a dog, you know what we're talking about! The car seats can get dirty, sticky and covered in muck. Getting in and out of the vehicle daily can coat your car seats in mud, sand, food, crayons, pet hair and even water, which is simply a common part of life when you own a 4x4. But who wants to clean your seats after every outing? And not to mention cleaning and protecting your leather seats. Despite your best efforts, keeping your car seats clean can be harder than it needs to be.
So, what's the solution? Seat covers of course! Good quality and easy-to-install seat covers can change your life. Below we'll discuss all the benefits having a quality car seat cover for your 4x4, as well as which car seat covers we personally recommend and use. So keep on reading to find out more!
Why have car seat covers?
Protect your 4x4's seats of wear and tear

Improved comfort via additional support and padding

Elimination of seat fade from the sun

Ability to remove covers and wash

Protection of leather seats

Waterproofing your seats reducing the chances of staining

Protection from pet hair and food

Cleaner looking vehicle interior
Pretty much you end up with a more comfortable and cleaner seat that is protected from the constant barrage of dirt, kids and sand. It's actually one of the first 4x4 accessories we recommend when someone buys a new ute or 4x4. You might be asking, "so what's the best Ford Ranger seat covers?", well here are our recommendations.
What are the best car seat covers?
EFS Car Seat Covers
Protect your seats with EFS's new range of canvas seat covers. We recommend EFS's range of car seat covers as they are made from heavy-duty cotton, with foam backing for extra comfort. EFS car seat covers are UV and water-resistant and you'll find you can simply wipe any spilt water off! EFS have a huge range which suits nearly any model of vehicle and seat features including cab chassis vehicles, extra cab, dual cab and various model range vehicles with different styles. They have Hilux seat covers, Ford Ranger seat covers, Ranger Wildtrak car seat covers and many more popular brands of utes and 4x4's. They provide both front and rear seats covers, which serve as an excellent seat protector.
Specifications
Snug fit which is custom made for specific makes & models of 4wds

SRS airbag approved

Dark grey colour

Fire resistant

Double stitched

Sold as pairs

Easily cleaned

Comfortable in the heat and cold

CNC machine cut fabric
EFS Front Seat Covers for Mazda BT50, EFS Front Seat Covers for Next Gen Ford Ranger, EFS Rear Seat Cover for Ford Ranger PX1, PX2 & PX3 Series and the EFS Rear Seat Cover for Mitsubishi Triton MQ MR are just some excellent examples of car seat covers available.
Hulk 4x4 Car Seat Covers
Another very popular and highly recommend brand is Hulk 4x4 car seat covers. Hulk provide Amarok car seat covers, Ford Ranger car seat covers, Isuzu Dmax seat covers and many other vehicle brands. The Hulk 4x4 range of seat covers are heavy duty canvas seat covers which are made from premium quality blended poly and cotton canvas. This allows them to be super strong and comfortable as well as waterproof, tear and rip resistant.
They are guaranteed to fit your vehicle as they are vehicle specific and tailored to fit. Perfect if you want to protect your car seats from wear and tear and also keeping a great resale value when needing to sell in the future. So if you are a tradie, have kids or a dog or just like going camping and four wheel driving on a muddy weekend, then this is the seat cover or seat protector range for you and your family.
Specifications
6mm foam backed padding for extra comfort & also gives slip resistance

Maximum protection

Waterproof backing
Tear & rip resistant car seat cover
50% poly canvas / 50% cotton canvas 13oz or 435gsm
Designed in Australia for Australian conditions
Velcro fitting system seat cover
Vehicle specific, Guaranteed to fit
All over canvas map pocket
Fade resistant, rot resistant

Off road tested

5 year warranty
Hulk Front Seat Covers to suit Holden Colorado & Isuzu Dmax & MUX, Universal Hd Canvas Seat Cover - Grey Fronts, and the Hulk 4x4 Canvas Seat Covers Holden - Colorado D/Cab 06/15> Rears are excellent car seat cover options. They have both front seats and rear seats car seat covers.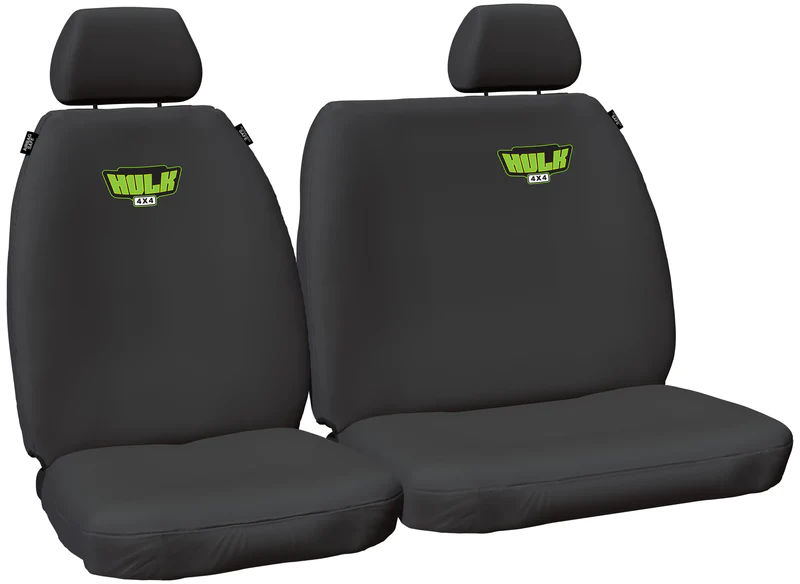 Installing the car seat cover
The EFS and Hulk 4x4 seat covers shouldn't take you any longer than around 10 minutes to fit each front and rear car seat covers. One of the most important factors when it comes to seat covers is how they fit, and hug the seat. If they are loose, they will be uncomfortable to sit on, cause greater damage to your seat and look very average. Make sure to pull tight on all the corners, allowing for a snug fit that is comfortable to sit on and doesn't look baggy or wrinkled. Ensure all the ties are secure and tucked out of the way.
One of the most important considerations and factors to think about when selecting seat covers online is their size. Many times, people make the mistake of buying universal seat covers for their 4x4 or ute and although easier to access, universal seat covers are often ill-fitting, resulting in the unsightly bunching of fabric or they might keep moving around if they are too loose. However, covers that are too tight may rip when putting them on or as people move about on the seat cover in tough conditions.
To select the right size for your 4×4 vehicle, car, SUV or ute, carefully select the Make, Model, Badge/Mark, whether your vehicle is Single/Dual/Extra/Van and the selected vehicle Manufacture Year. This way, you are sure to have the perfect fit for your seat protector when you install your seat cover. Other brands such as MSA seat covers, ARB seat covers and Black Duck seat covers may not have the correct seat cover for your vehicle, but Brixton 4x4 Adventure stock many a seat cover for vehicles such the Ford Ranger and Toyota Hilux.
Or these Hulk Canvas Front Seat Covers for Hilux Dual Cab.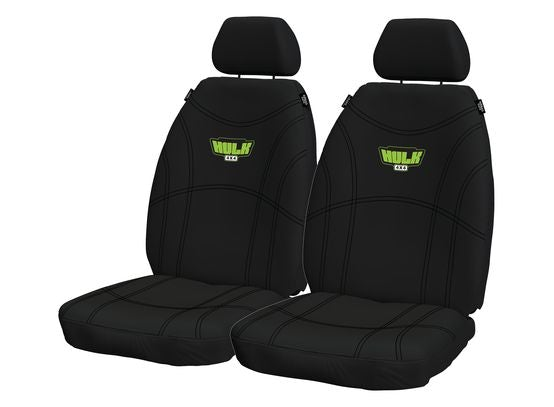 So, are 4x4 seat covers worth it?
Absolutely!! We can't recommend these 4x4 car seat covers accessories more. We certainly have a greater appreciation for seat covers after trying out the EFS and Hulk 4x4 range of seat covers. Starting at an affordable $174.95 for the Hulk Universal Neoprene Seat Cover, getting a good set of car seat covers for your 4x4 is easier and more affordable than ever. The seats are definitely protected with a custom fit, quality product.
Brixton 4x4 Adventure has a huge range of online 4x4 accessories plus 4x4 seat covers australia. We offer a great price, quick delivery or pickup available. We're also an Aussie operated business and are based in Australia. We have many accessories and gear to suit a wide range of vehicles and SUV's. We also offer PayPal, ZIP and AfterPay as payment options.
#best car seat covers australia #4x4 seat covers australia #4x4 canvas seat covers