THE ULTIMATE 4x4 & OFF-ROAD RECOVERY STARTER PACK
We've got all the tips and tricks when it comes to taking your 4x4 off-road, including the latest recovery gear and accessories.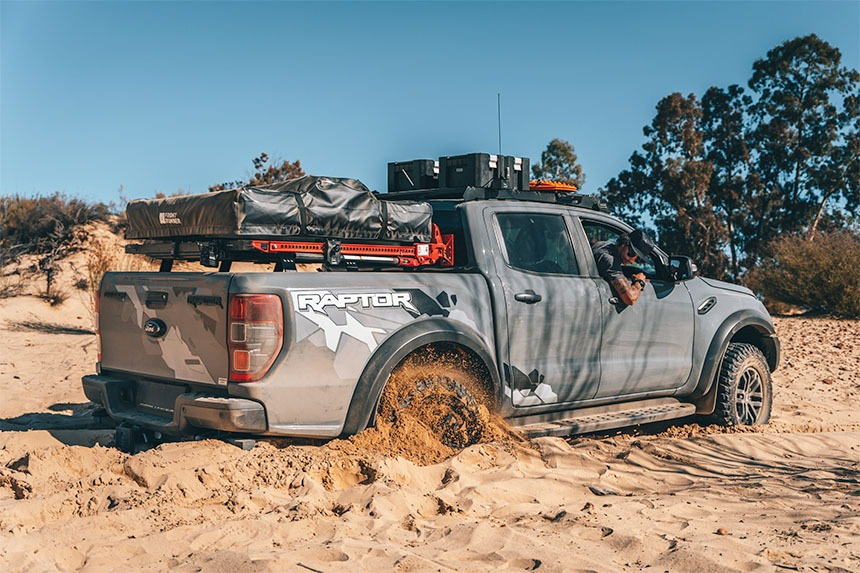 Holiday season is just around the corner and you might be heading off on another Australian adventure with your 4x4. Whether you're planning a beach adventure to Fraser Island or are looking at tackling a few 4x4 off-road trips, now is the time to start preparing by organising and checking your recovery gear. You simply don't know when you might get stuck, and having all the right is essential to recovering your 4x4 in any situation. Whether you have a Ford Ranger, Mazda BT-50 or the new 2022 Landcruiser, even the best vehicles can get stuck. Rest assured, even the most experienced 4WDers get bogged, which is why they carry the all the necessary accesories and recovery gear to get them out. Planning ahead and packing the correct recovery gear for your 4x4 can prevent you having to call for help. Buying new and reliable gear can make work lighter for you and prevent old equipment braking when you need it most. We have all the information you need for choosing the right recovery items. Read on to find out exactly what you need on your recovery gear and accessories packing list;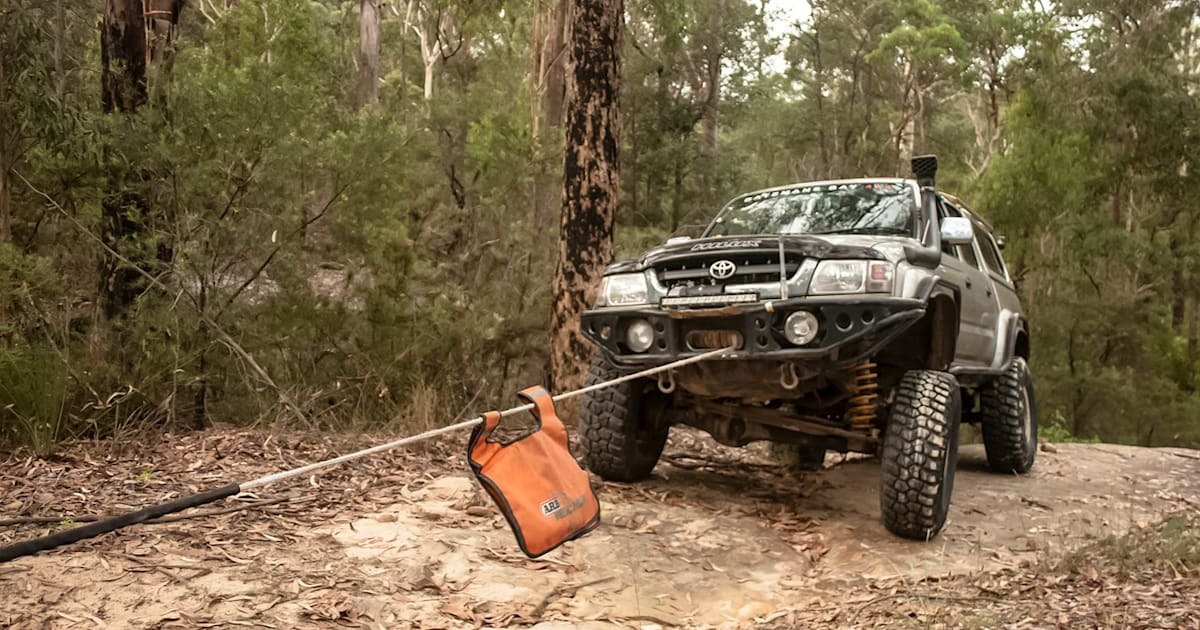 1. ​Comprehensive 4x4 Recovery Kits​
Looking for a kit that has everything you want? Than you might be looking for a full, pre-selected recovery kit which contains most of the essentials that you'll need for your next 4x4 adventure. The advantage of buying a kit, is that you keep all your gear in the one place so you know where it is when you need it most. The last thing you need in an emergency is to be looking for all your recovery gear in different parts of your 4x4. Rigging, towing, and winching are all vital parts of recovery. The Campboss Premium Adventure Recovery System has everything you need in a handy carry bag. Featuring the latest innovations in 4x4 recovery technology, this kit has all the essentials for the serious 4WD outdoor enthusiast. With a focus on safety, you will be able to winch or recover yourself out of the stickiest situations. This kit comes with recovery rope, winch extension rope, soft shackles, tree protector, recovery blanket, heavy-duty gloves and premium carry bag.
Another option is the Hulk Large Recovery Kit - Assorted Products With Bag which also contains many of the essential 4x4 recovery items you require. This is a comprehensive 4x4 recovery kit which includes:
8,000kg MBS snatch strap 9m

5,000kg MBS winch extension strap 20m

12,000kg MBS tree protector strap 3m

2 x 4.75t WLL bow shackles

Pig grain leather recovery gloves

Recovery damper 8,000kg snatch block

Heavy duty storage bag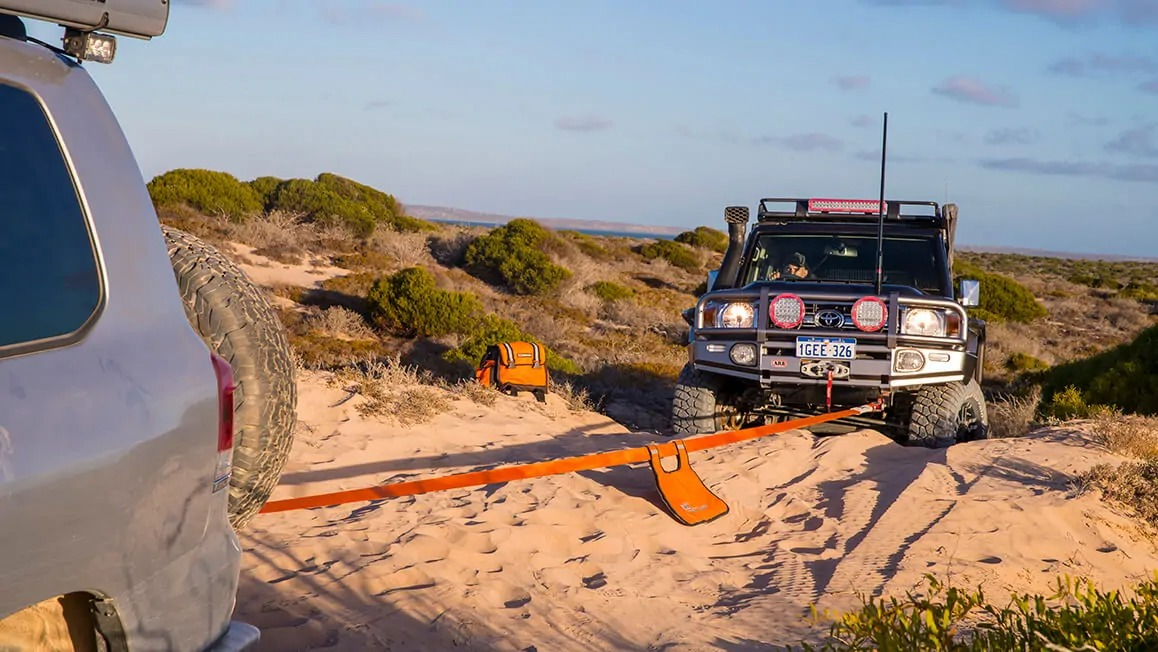 2. ​Recovery Boards & Traction Plates
Heading off-road with traction plates is absolutely essential. Not only for sand but many other types of terrain too. These lightweight and tough recovery devices are versatile and are like no other recovery device. These recovery boards are well worth the money and an absolute must for any off-road adventurer. From sand, mud, snowy conditions and rocky terrain, they provide the traction you need to get out of a tricky, sticky, or slippery situations. At the top of list, we recommend the TRED Pro Recovery Device which is popular brand. TRED Pro is the gold standard of recovery boards designed for the serious adventurer who eats, sleeps, and breathes exploring. TRED Pro is the next generation of the world's most advanced all-in-one off-road vehicle recovery boards. It's specifically designed to get your 4WD, ATV, and equipment out of seriously adventurous trouble when traction is lost in sand, mud or snow. Developed and manufactured in Australia, TRED Pro out-performs any other traction aid in the market allowing you to explore with confidence whatever the terrain. TRED also offer these traction plates in blue, red, green and grey, and also with a variety of sizes. Getting these recovery boards is a must have for every 4x4 adventure.

3. Snatch straps
The humble snatch strap is one of the most common ways to recover your 4x4 and is an essential to any recovey kit. They are cheap, lightweight, and simple enough to use. A snatch strap is a special rated strap that when pulled stretches up to 30% in length. The Hulk 4x4 Recovery Kit contains snatch straps already, however it's good to have a few spare. The snatch strap allows a recovery vehicle to get a run-up before you start towing the bogged 4x4. The Hulk Premium Snatch Strap 12,000Kg has a 12,000kg minimum breaking strength and is 85mm x 18m in size and made from 100% polyester. Instead of a harsh yank like a chain, these soft snatch straps stretch while building up energy and then releases it more gently.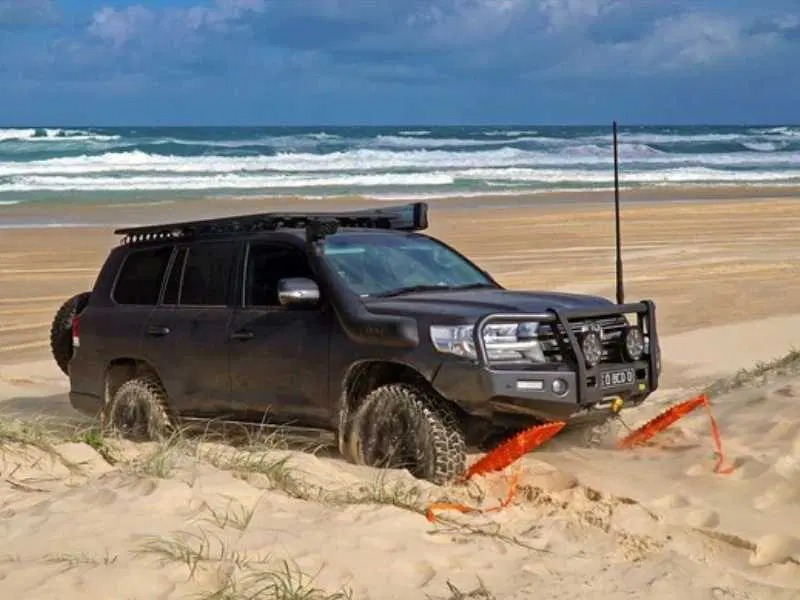 4. Tyre Deflators​
Lower tyre pressures improve traction in both sandy and muddy conditions and, once stuck, slightly deflating a tyre is mostly the trick to getting you out. Back on hard terrain, don't forget to re-inflate your tyres. We recommend the new Campboss Boss Air Tyre Deflators which are a super handy tyre deflator by Campboss are the must have accessory for off-road adventures on sandy tracks or beaches. The Campboss deflators are a fast and effective way of deflating all 4 tyres to the exact pressure needed for beach adventures. These tyre deflators are a must have for any 4WD adventurer. Pair this with the new Campboss Boss Air Tyre Gauge which has been designed to be user friendly and compact for the four wheel driver.  Fitting easily into the side pocket of most vehicles. With the bright blue backlit LED screen it is easy to read in full sunlight and has auto shut-off to increase battery life.  Able to be used not only to check tyre pressures at an accurate level but also the pressure bleed valve allows you to deflate tyre pressures evenly. It has a swivel head to make it easy to access valves stems on all types of aftermarket rims.  Overall it is a good quality Tyre Pressure gauge. These two items together work well to top off your recovery kit and make every sticky situation easier to manage, so you don't need to yell for help.

5. Shovel
A good shovel should be very close to the top of your recovery gear shopping list. This is definitely something you want to purchase before you step into the outdoors. Trying to free up a buried wheel out of sand, mud, or snow using the wrong equipment is not only time-consuming and ineffective but also dangerous. The shovel has many recovery uses and can also be used for a number of other camping uses such as digging toilets, leveling a campsite or caravan site, putting out fires and digging a fire pit to cook dinner. Front Runner's Spade/Shovel with Axe Edge is a very popular option. Much like your other recovery items, you want to stow it safely, but have it easily accessible when traveling off-road around Australia.
Conclusion
Brixton 4x4 Adventure stock a great range of Recovery Kits for your next 4x4 off-road adventure.  Along with our recovery gear we also have a selection of complimentary 4x4 accessories to help you get out of sticky situations during your four wheel drive adventures, like electric winches, winch extrension rope, soft shackles, recovery ropes,  bow shackles, tyre pressure gauges, compressors, snatch straps, snatch blocks, deflators, tyre repair kits, Campboss recovery gear, recovery hitches, kinetic ropes and bags to carry it all.