4x4 Racks and Bars
You're heading off on another awesome 4x4 and camping adventure in Australia, you have packed your entire lift into the 4x4 dual cab ute and the bags, eskies and camping chairs are busting out the seams. As we all know, many of the cab ute trays these days are limited for space. Luckily the 4x4 gods have created a number of great racks and bar options to give you more space to store important adventure gear like trail bikes, kayaks, beers, surf boards and all the other really important stuff.
At Brixton 4x4 we have all racks and bars that you'll need to get you on your way. These roof racks and bars are suit most 4x4 and SUV vehicles, including rear tray racks for carrying bikes or water crafts or a removable rack for storing camping accessories, or off-road gear like recovery tracks and shovels.
The name says it all, a bar to take extra load, simple enough really. However just like a good onion or Shrek, if you peel back the layers you may start falling in love. Now to find out how we can safely transport all your important adventure gear & beers read on!
HSP took that quite literally and moved away from the plastic bottoms. The HSP Load Bar has a full metal frame meaning that your precious cargo *beers in the esky are resting on a solid foundation. 
The HSP Load bars have a common channel that allows you to use accessories compatible with awesome roll top roof rack manufacturers such as Rhino-Rack, Thule, and Yakima.
Front Runner Slimline Roof Racks
Not only is the super durable and stylish Front Runner racks available for almost all vehicles, Brixton 4x4 offers FREE delivery on their entire range of Slimline Roof Racks.
Yakima Roof Platforms
Our Yakima range includes a great selection of roof racks and platforms designed for 4x4 dual cab vehicle and SUV vehicle range. Their platform selection is available in multiple sizes to allow for full roof coverage or shorter platforms that are suitable for vehicles with sunroofs, or those who have a rack on their tray and want to create a second rear raised platform to store more goods above the tray area.
In addition to the great roof platforms and racks products for your vehicle, we have a huge selection of strong and useful roof rack accessories for fitting bikes, kayaks, surfboards, snow gear and much more. But for the 4x4 adventure nuts, they also have Jerry Can Holders, Shovel Holders, Gas Bottle Holders, High Lift Jack Holders and last but definately not least, the importantBottle Opener/Multi Braket.
Front Runner also supply excellent quality platforms made from black epoxy powder-coated T6 aluminium High strength steel. This type of rack platform known as the Slimline II cargo carrying rack, creates a full-size rack that sits above your vehicles load bed. The Slimline II cargo carrying rack kit contains the Slimline II tray and 4 Pickup Truck Bed Universal Legs that fit into the existing factory bed tracks. And the best thing about this, is that there is absolutely no drilling required.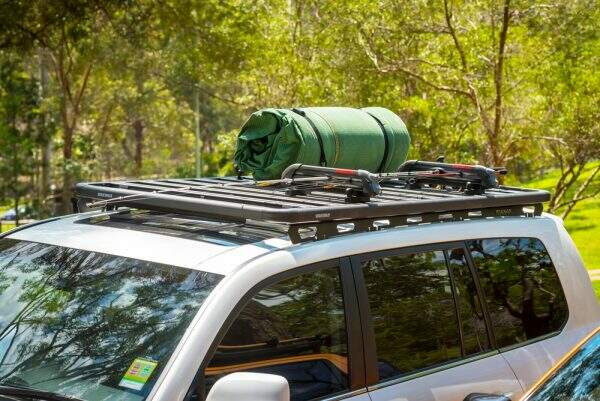 Tray Roll Covers
For added security we also have anther great product, the HSP Roll R Cover roller covers for your rear ute tray. Our racks and platforms mentioned above will suit even with this roll cover installed on your vehicle. The HSP Roll R Cover is Australia's favorite roll top. With features such a built in LED light, advanced water drainage and the ability to open, close and pause the unit via a touch sensor, your mobile phone or even your factory remote. Suits nearly every vehicle such as the Ford Ranger, Mitsubishi Triton, Isuzu D-Max and more.
The Roll R Cover includes;
Open, close, and pause in any position

Compatible with HSP Load Bar cross bar system

Heavy-duty aluminum

Full width integrated LED Strip Light

Built-in AI technology servicing warning light

Compatible with Sports bar

Operate via touch sensor built into side rail

Operate via factory vehicle remote

Small compact canister 

Mannix black premium black finish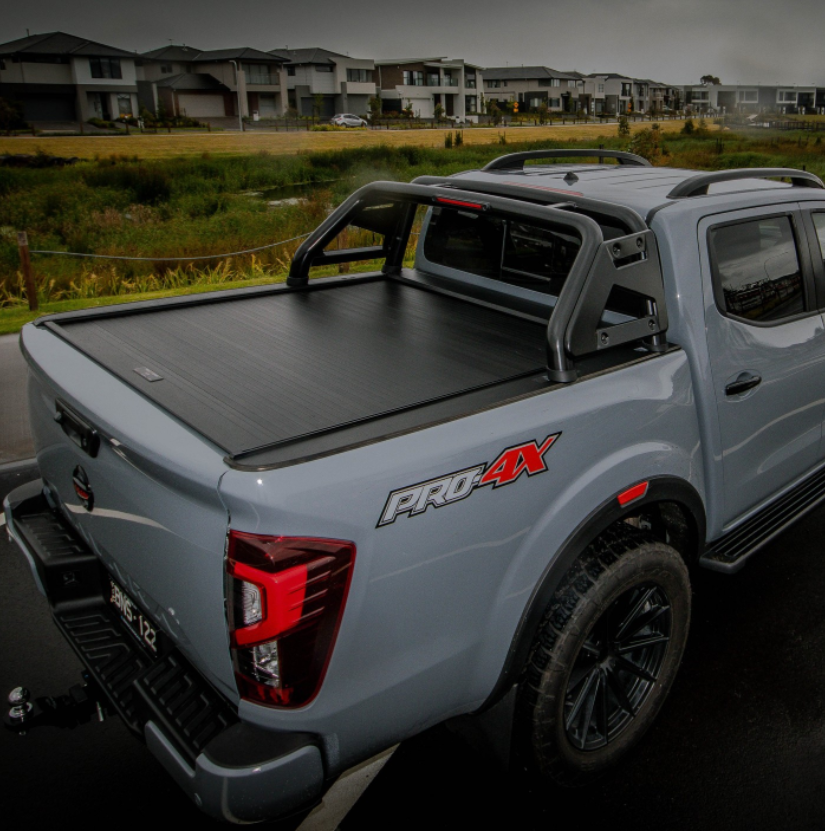 Roof Racks
Our Yakima range of roof racks not only provides greater carrying capacity on top of your vehicle, but they're also aerodynamic which reduces drag and noise to nearly zero. Get ready to load up and hit the road with these removable accessories. The YakimaThruBar Roof Rack Bar Kit provides greater carrying capacity, is available in anodised satin silver or black powder-coated finish, rack legs are integrated with the crossbar for a sleek, seamless appearance, aerodynamic profile reduces noise and decreases drag up to 70%, crossbar advanced technology reduces noise and decreases drag substantially and rack easily locks to your vehicle with the handy SKS system which is included.
Roof racks are lighter than most heavy platforms, can be easily removed when need be and are a cheaper price too. This rack suits most vechiles such as Ford Ranger, Toyota Hilux, Mazda BT-50 and more.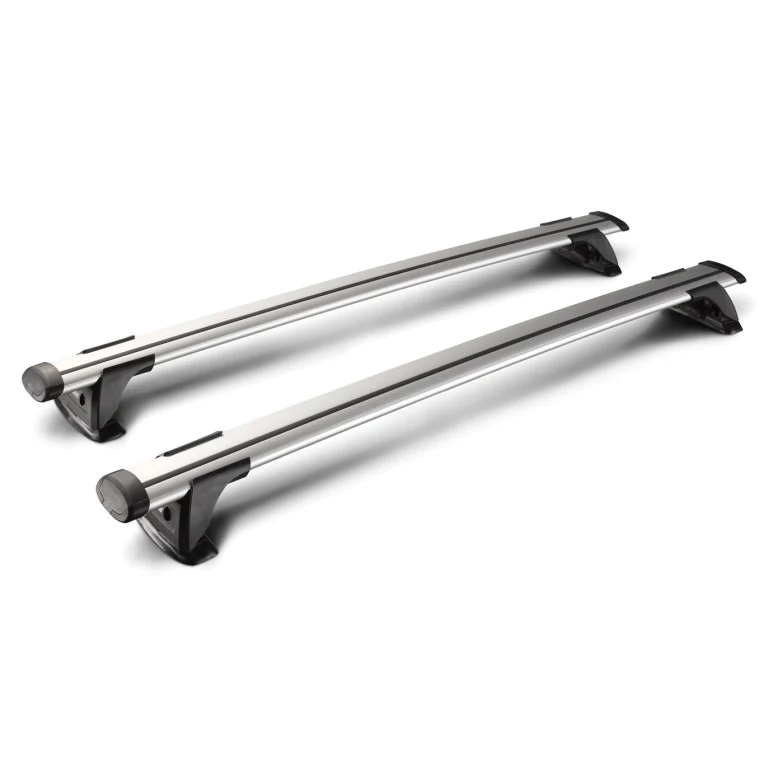 Ladder Racks
Our Front Runner range of ladder racks provides you to easy accessibily to the roof of your 4x4 vehicle with ease and safety. The basic ladder rack by Front Runner is a seven step ladder to easily access your gear. It's retractable for easy storage and made from sturdy aluminum. The ladder rack also got foot friendly steps, is finished in a black anodizing to match the Front Runner roof platform if you already have one. Another great feature is it holds up to 180kg, so dig in and have an extra piece of Christmas pudding.
if you already have a roof platform, then the Front Runner ladder rack and side mount kit is the perfect addition. The side mount brackets attach your to the side profile of your ladder rack without being obtrusive. The adjustable side mount brackets suit all vehicle types and load beds.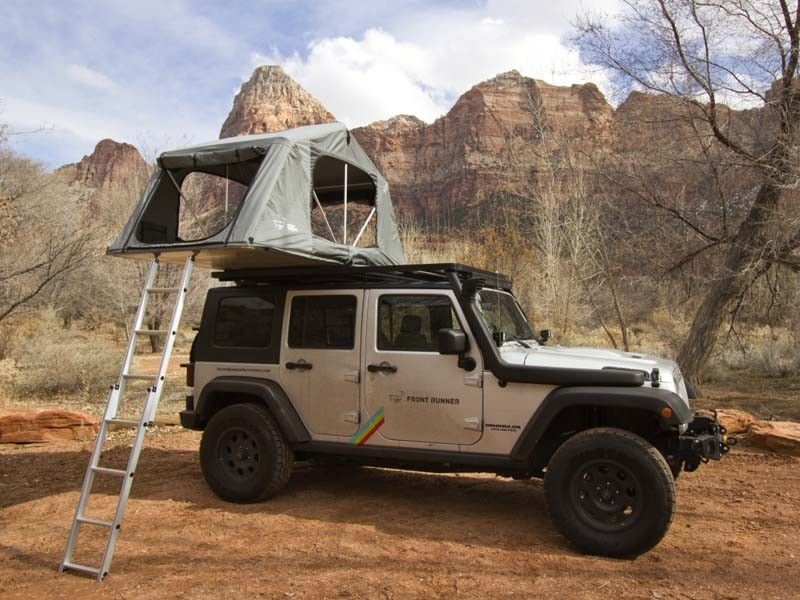 Brixton 4x4 Adventure has a huge range of 4x4 and camping gear online. If you are searching for a product and you can't find what fits your needs, get in touch and contact our service team via the online chat or email and we'll help search and find a solution for you.
Read our latest blog on the Best Bike Rack for Caravans.