Accessories for the New Next-Gen Ford Ranger XLT, Wildtrak & Raptor
Meet the new Next-Gen Ford Ranger
The new Next-Gen Ranger is bigger, tougher, and smarter--and now available in Australia. With new and upgraded engines, a range of automatic transmissions and selectable drive modes, comfortable interior options packed with new features and technology the Next-Gen Ford Ranger is designed and engineered ready to tackle almost anything. We've all the information you need when it comes to Ford Next Gen Ranger accessories.
For those 4X4 adventure enthusiasts consider looking into an EliteDrive Throttle & Smart Throttle Controller for absolute control over the throttle performance for the ultimate driving experience.
The new Next Gen Ford Ranger has a wide range of available tough, smart, and versatile models that suit every budget: XL, XLS, XLT, Sport, Wild Trak, and Raptor. Featuring improved safety provision, a more refined cabin finish, a stack of off-road and towing features and a three-engine line-up with a plug-in hybrid version in development, there's a lot to take in with this 2023 Ranger.
Brixton 4X4 & Adventure is here to provide you and your new Next Gen Ranger with all the aftermarket accessories you need to deck out your new Ute, just the way you like it. We've got a huge Next Gen Ranger accessories range available to shop. Next Gen Ford Ranger accessories such as suspension, aftermarket accessories, driving light and more.   
Expanding Your Vision: Clearview Next Gen Towing Mirrors for Ford Ranger Next Gen.
The Clearview Next Gen's dual-mirror design is ideal for towing from compact trailers to expansive vans. The top mirror, with its 1:1 ratio, gives a true distance reflection, perfect for reversing. In contrast, the slightly convex bottom mirror offers a wider field of view, minimizing blind spots and enhancing awareness  around the vehicle.
All of Clearview Next Gen towing mirrors are genuine replacement options. They're crafted to align with the original mirror's holes, fittings, and wiring (if relevant), ensuring a hassle-free plug & play installation. 
Exploring Roller Cover Choices for the Next-Gen Ford Ranger.
The Roll cover solution for Next-Gen Ford Ranger Utes, aim to provide both protection and convenience to vehicle owners. Those seeking top-of-the-line covers for their Utes should consider both these options for their distinct features and benefits. Shop now for the best aftermarket Roller Cover accessories in the industry.
Elevating Your Ford: HSP Load Bars suitable for the Next Gen Ranger.
Check out our range of Next Gen Ranger Aftermarket Load Bars.
Get 4x4 Ready With Ford Next Gen Wheels/Rims
We have a great range of Next Gen Ford Ranger Wheels/Rims for you to choose from. 
The Next Gen will fit 17", 18" and 20" wheels in 6/139.7. You'll need an offset of ideally +30 to 55, but with flares you may be able to achieve +15 to 55 offset.  Our team are available online via our SMS chat facility to help select the right size for your Next Gen. Why not enhance the look of your truck and shop our range of Next Gen Ford Ranger, Raptor Wheels here.
Get Inspired
The new Next Gen Ford Ranger is designed to be tough, capable, and comfortable, with the engineering and design to suit all needs from work, family, and play.
Campers and Tradies will love the fact that there's plenty of space in the hydroformed engine bay to accommodate a second battery available on all models except for the petrol-powered Next Gen Ford Ranger Raptor. There's also space for a aftermarket Snorkel and the standard 80-litre fuel tank aperture can accommodate an aftermarket 140-litre unit without difficulty.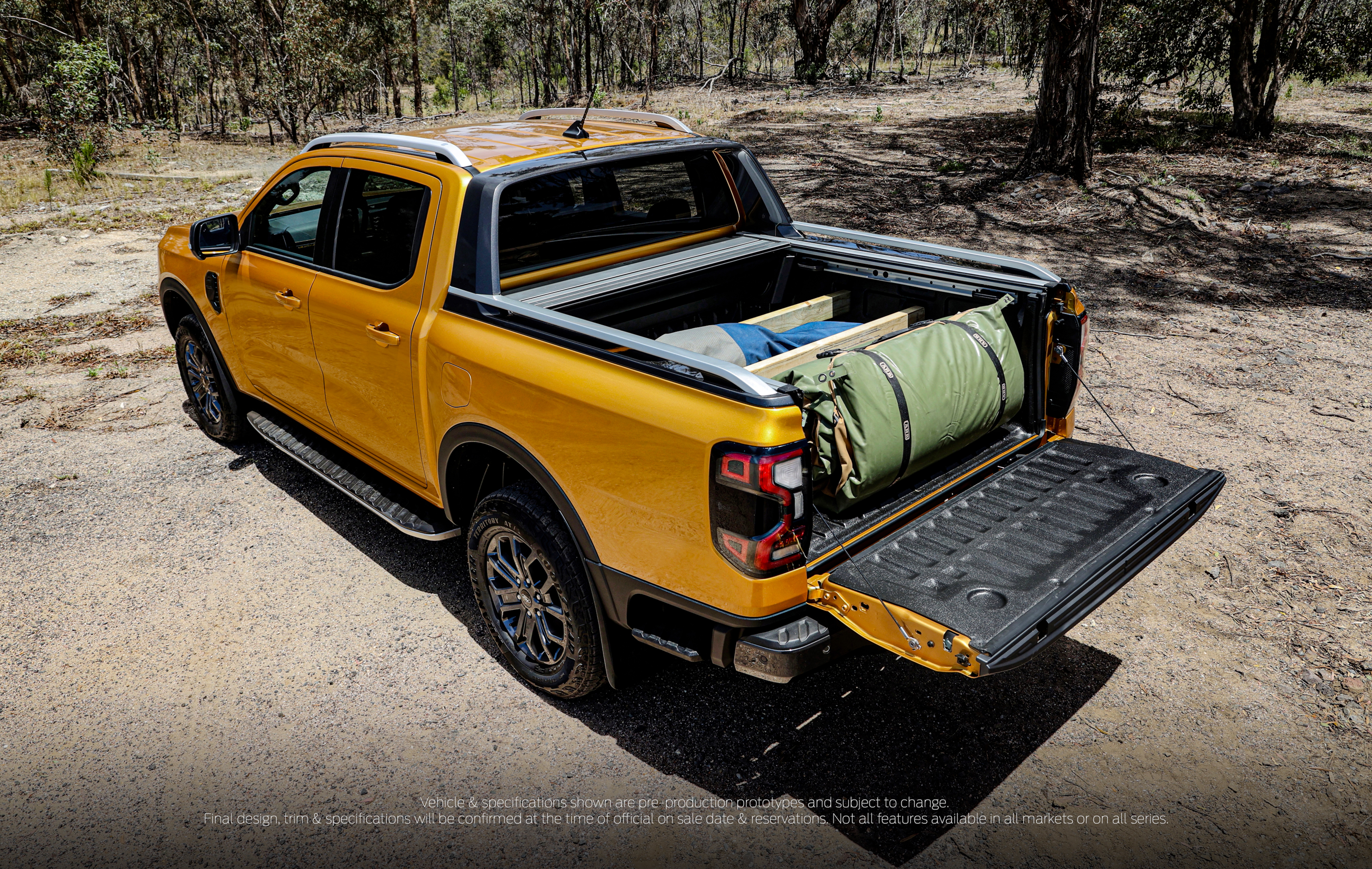 Get Moving
New Ford Rangers Next Gen have a 3500kg GVM towing capacity and depending on the model, come with tow bars, wiring and electronic brake controllers.
There is also a 360-degree camera system--standard on Wildtrak and Raptor, and optional on XLT and Sport--which can be used for further visibility off road.
Towing
The Next Generation Ranger has plenty of towing capability and TAG already has Heavy Duty Towbar and Recovery Towbar options available to suit your Next Gen Ranger.
Enhancing the feeling of security when manoeuvring the Ranger is a full surround-view camera system with decent definition, standard on Wildtrak and optional on the Sport and XLT trims.
Load Up your Ford Next Gen
At the rear, access to the 1544mm long tub has been improved with the fitment of a box step set into the side of the wraparound bumper moulding. This has been rated to over 200kg and is easily wide enough for a good-sized work boot.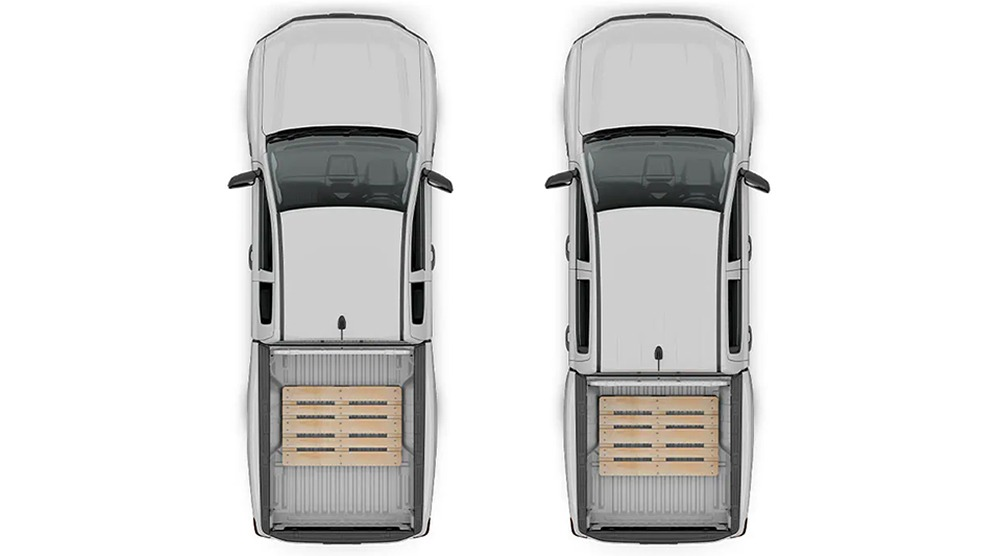 It also means that you no longer have to step up onto a potentially slippery rear tyre to climb into the bed. Moving the dampers outboard of the springs has meant that the load bay is crucially wider than before and the Ranger's 1233-litre tub can now accommodate a 1200x800mm Euro pallet.
Every Ford Ranger variant gets a moulded box capping with pre-drilled mounting points along the side. Those models without a full moulded tub liner feature a neat and discreet ruler on the tailgate lip that can be used to measure wood, fish, rope or anything else that could use measuring.
Need more storage?  The Front Funner has fanastic aftermarket lockable drawers set have been designed specifically for Ford Ranger Wildtrak and Raptors fitted with a drop-in bed liner. Engineered tough for both on and off-road travel.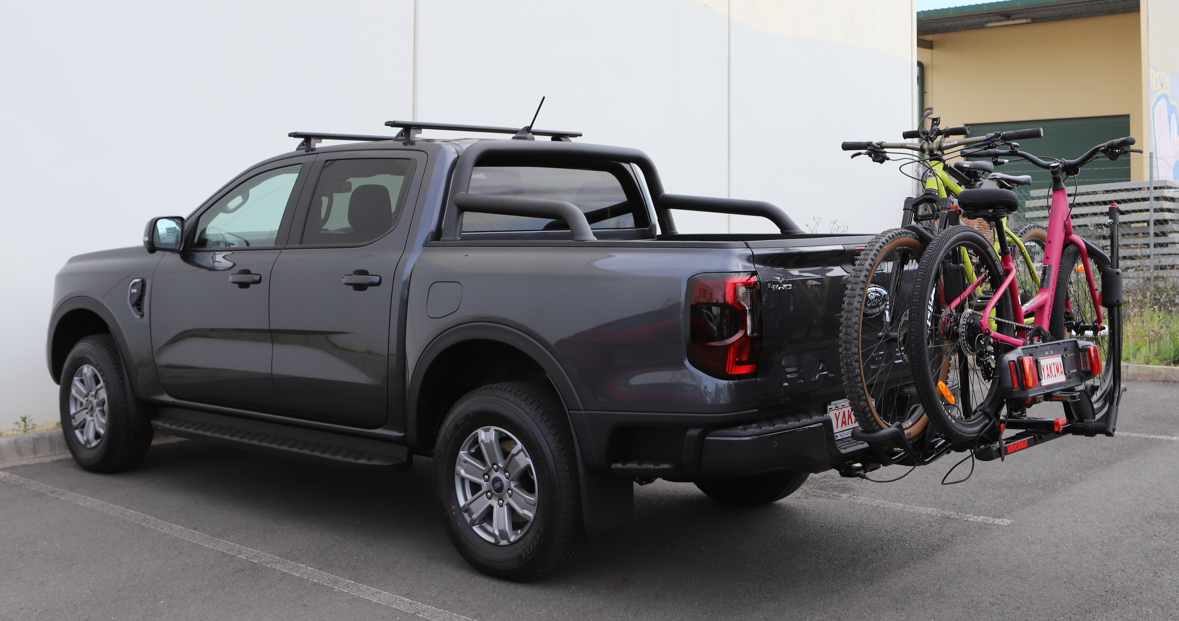 Looking for a safe way to access your tailgate? The TailGate Assist from HSP is the perfect upgrade for your Ford Ranger & Raptor.
Six tie-downs are provided within the tub along with slots in the moulding so that the tub can be divided if necessary, so make sure you've got enough ropes for all your storage and tie-down needs. The Wildtrak also features a pair of sliding cleats and a powered roller shutter. The latter can be operated from within the vehicle, via a weatherproofed button in the tray or via the Ford Owner App.
The design of the New Next Gen Ranger can now accomodate Yakima Hitch Bike Racks. Perfect for day trips or camping trips the HoldUp is Yakima's fastest, easiest way to load bikes. Its beefed-up arm pivot makes it stronger than ever and the side-to-side adjustability reduces the chance for bike-to-bike interference. It's a road trip companion for life.
Rangers offer a new cargo management system designed with dividers to hold various sized items – like timber or toolboxes. Owners also can create smaller compartments to store objects, which would otherwise have to go in the cab, using a system of ultra-strong spring-loaded cleats that clip into rails bolted to each side of the cargo box. The tailgate can also double as a mobile work bench with clamp pockets to measure, grip and cut building materials.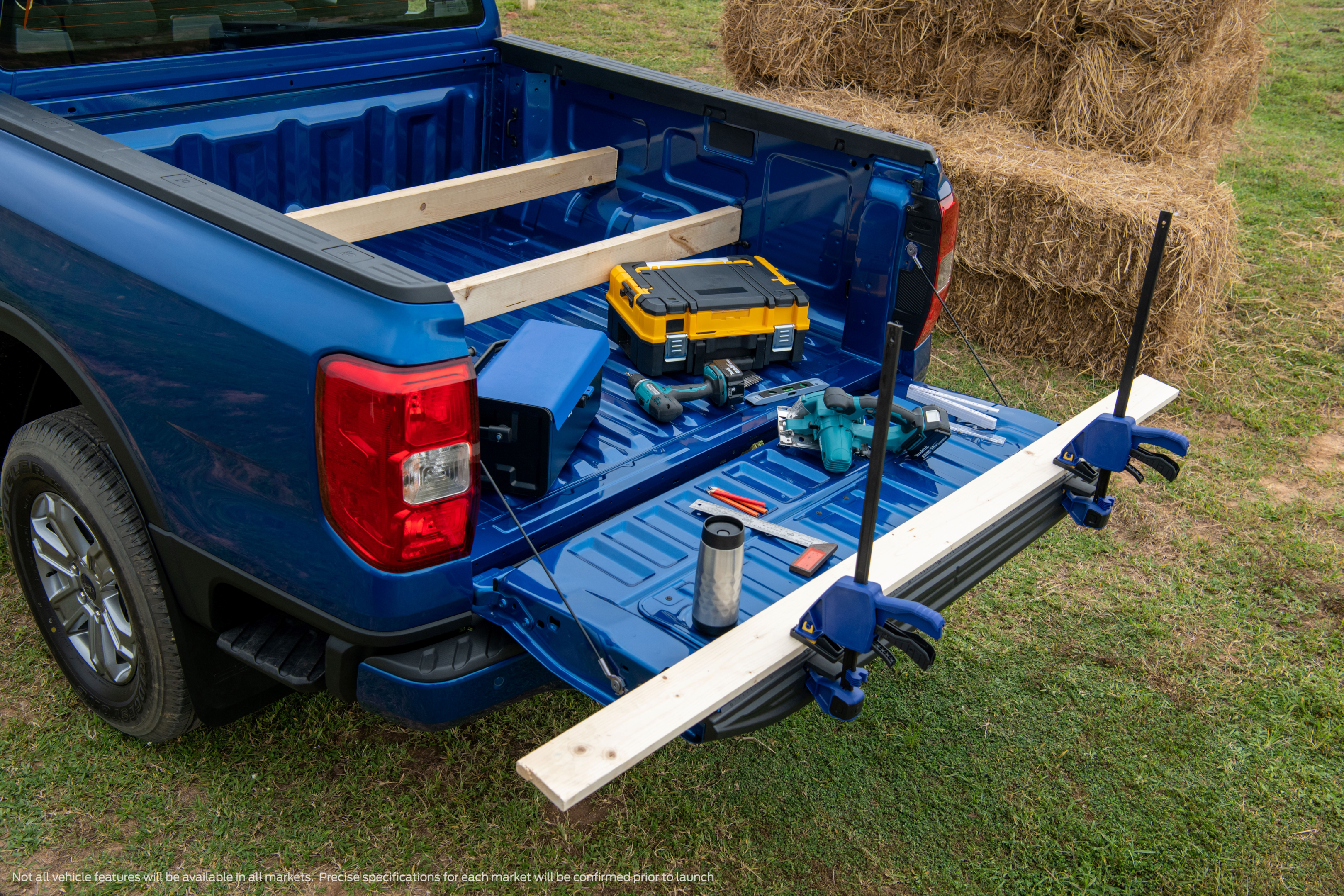 You can also operate the zone lighting via the app, so that you can fire up a 360-degree flood of lighting as you approach the vehicle in the dark; handy for security and convenience.
The roof load limits are 350kg static and 85kg dynamic.
Model-Specific Features
Next Gen Ranger XL
Bold new front face

Durable 16-inch solid and durable steel wheels

Coast-to-coast instrument panel with 10.1-inch centre LCD screen

Tough, stylish, and durable ebony interior finish
Next Gen Ranger XLS
Bold new front face with black grille with halogen day lamps and front fog lamps

Modern 16-inch alloy wheels in dark silver finish

Coast-to-coast instrument panel with 10.1 -inch centre LCD screen

Tough, stylish, and durable ebony interior finish
Next Gen Ranger XLT
XLT has always been that mid-range model that is popular with buyers that don't want all the bling but still appreciate a few features and luxuries. The perfect blend of workhorse and family adventure rig.
The now familiar 2.0-litre I4 bi-turbo diesel engine still makes 154kW at 3750rpm and 500Nm from 1750 to 2000rpm and backed by the 10-speed automatic and part-time 4x4 in the Ranger.
Bold new upper front grille with a central chrome bar, interlocking into distinct C-Clamp LED headlamps

17-inch alloy wheels in a dark silver finish, ready for on and off-road adventures

Coast-to-coast 10.1-inch instrument panel with LCD touchscreen

Incredibly comfortable, yet bold and durable interior finishes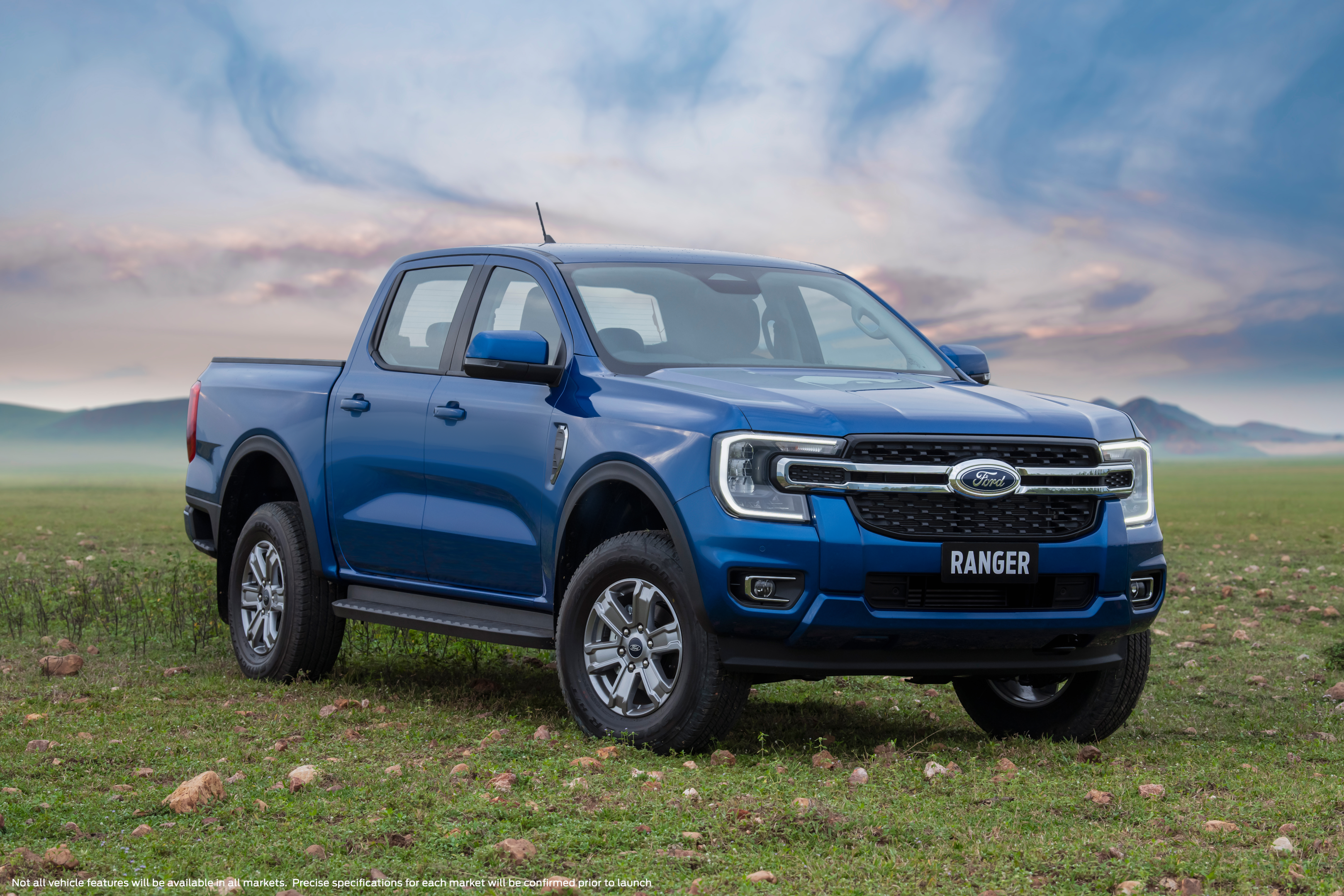 Next Gen Ranger Sport
Available with the V6 or I4 diesel engines, both backed by the 10-speed automatic transmission and 4x4 only. The Sport is distinguished by its all-black grille and model-specific alloy wheels.
Black on black grille with modern dark accents creating a sportier look, with C-Clamp LED headlamps to create a distinctive appearance and high quality finish

Machined-face 18-inch alloy wheels with asphalt black accents and clear matte finish

Coast-to-coast instrument panel with 10.1-inch LCD touchscreen

Premium trims, materials, and finishes to create a comfortable feel in the cabin--with aerograin texture features on the upper dash and in all storage areas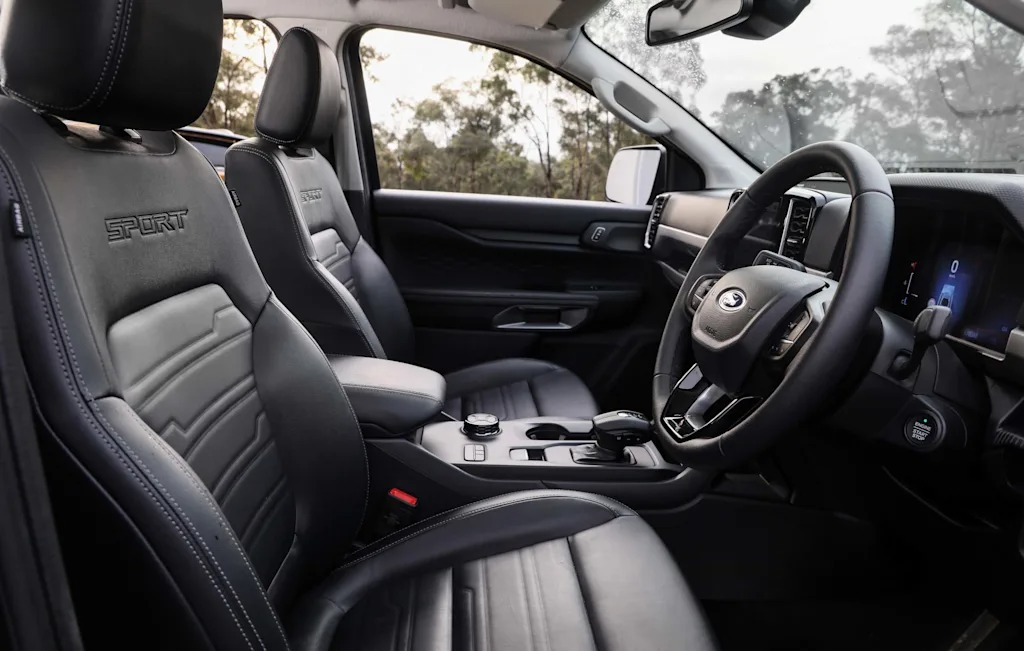 Next Gen Ranger Wildtrak
Unique grille with tough-look mesh surrounded by C-Clamp LED headlights to create a distinctive appearance and high quality finish

Stand out boulder grey 18-inch alloy wheels

Coast-to-coast instrument panel with 12-inch centre LCD touchscreen

Stunning ebony interior with unique character evoked from cyber orange stitching, boulder grey accents and premium satin aluminium touchpoints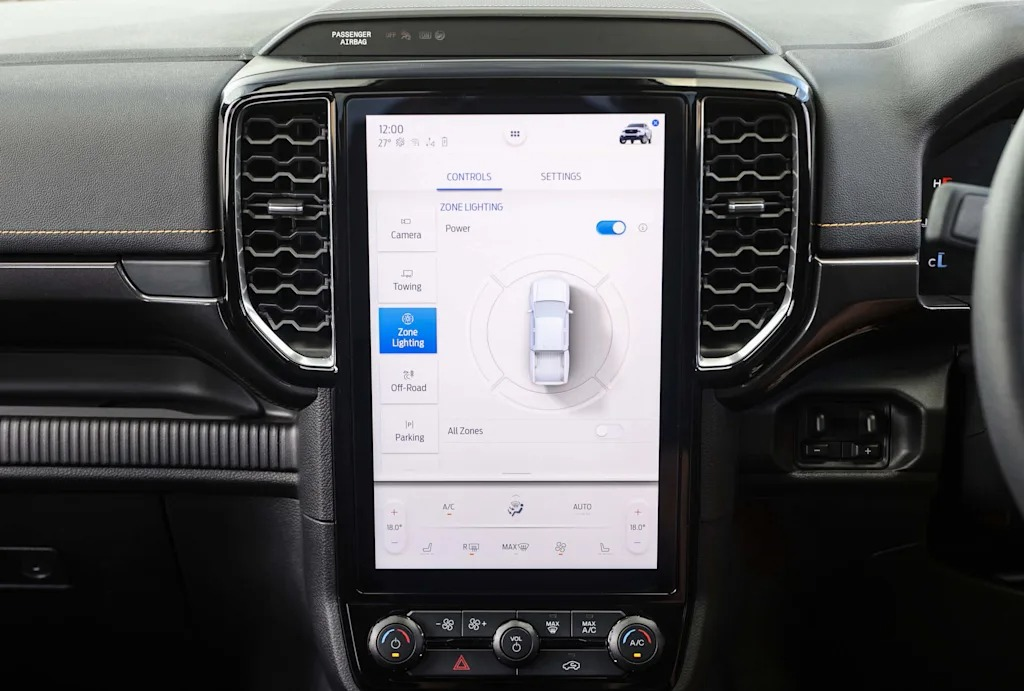 Next Gen Ranger Raptor
Developed by the Australian design and engineering team with Ford Performance DNA, Ranger Raptor is the ultimate performance derivative of the Next-Gen Ranger. With smarter technology and next-generation hardware, Ranger Raptor blends raw power with mechanical and technical precision to create the most advanced new Ford Ranger ever.
Nothing about the Raptor is low-key: signature Raptor front with bold 'F-O-R-D' letters on the grille, Matrix LED headlamps, chassis mounted bumper and 2.3mm-thick high-strength steel bash plate

Off-road beadlock capable alloys: unique 17-inch wheels designed to minimise damage from rocks while off-roading

Unique full command dash: 12.4-inch digital instrument cluster with fully configurable layout and gauges featuring a 12-inch centre touchscreen

Ford performance seats: jet-fighter inspired sports seats that are both comfortable and supportive, with unique stitching and suede inserts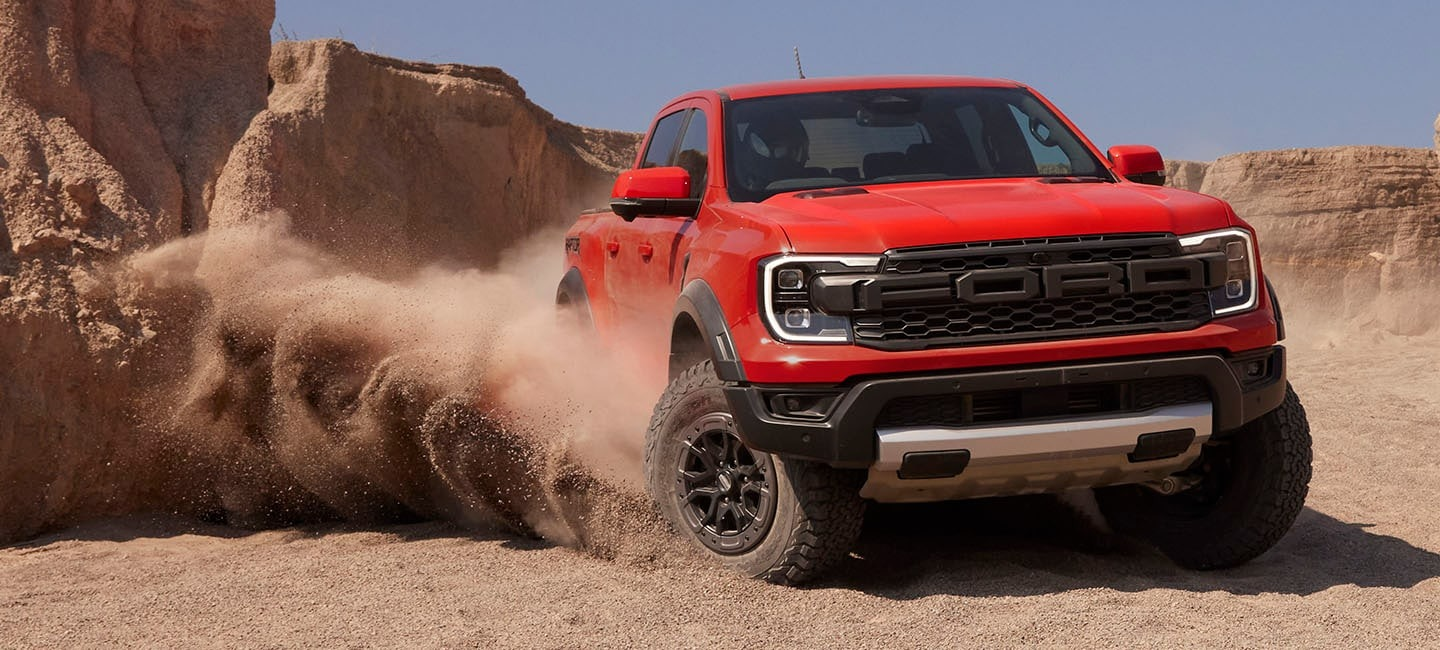 Chassis
While the general overall dimensions remain the same, a 50mm track width increase will benefit off-road stability, and there's an extra 50mm of wheelbase. Ford also tells us that the unladen approach and departure angles will also be improved by pushing the wheels out wider.

A leaf-sprung live rear axle will remain at the back (except for the Watts linkage coil-sprung Ranger Raptor), along with strut-based independent front suspension.
Disc brakes will replace drum brakes on XLT and above specifications. Rear disc brakes were previously only available on the range-topping Ranger Raptor.
Rear dampers have been moved further outboard on the 2023 Ford Ranger, in an effort to improve ride comfort. This also facilitates a wider tub, which will now fit a 1200mm x 800mm 'Euro' pallet between the wheel arches.
Offroad
With information such as driveline and differential lock indicators, as well as steering, pitch and roll angles, this will likely be similar to what is found in a Jeep Gladiator/Wrangler and various Land Rovers.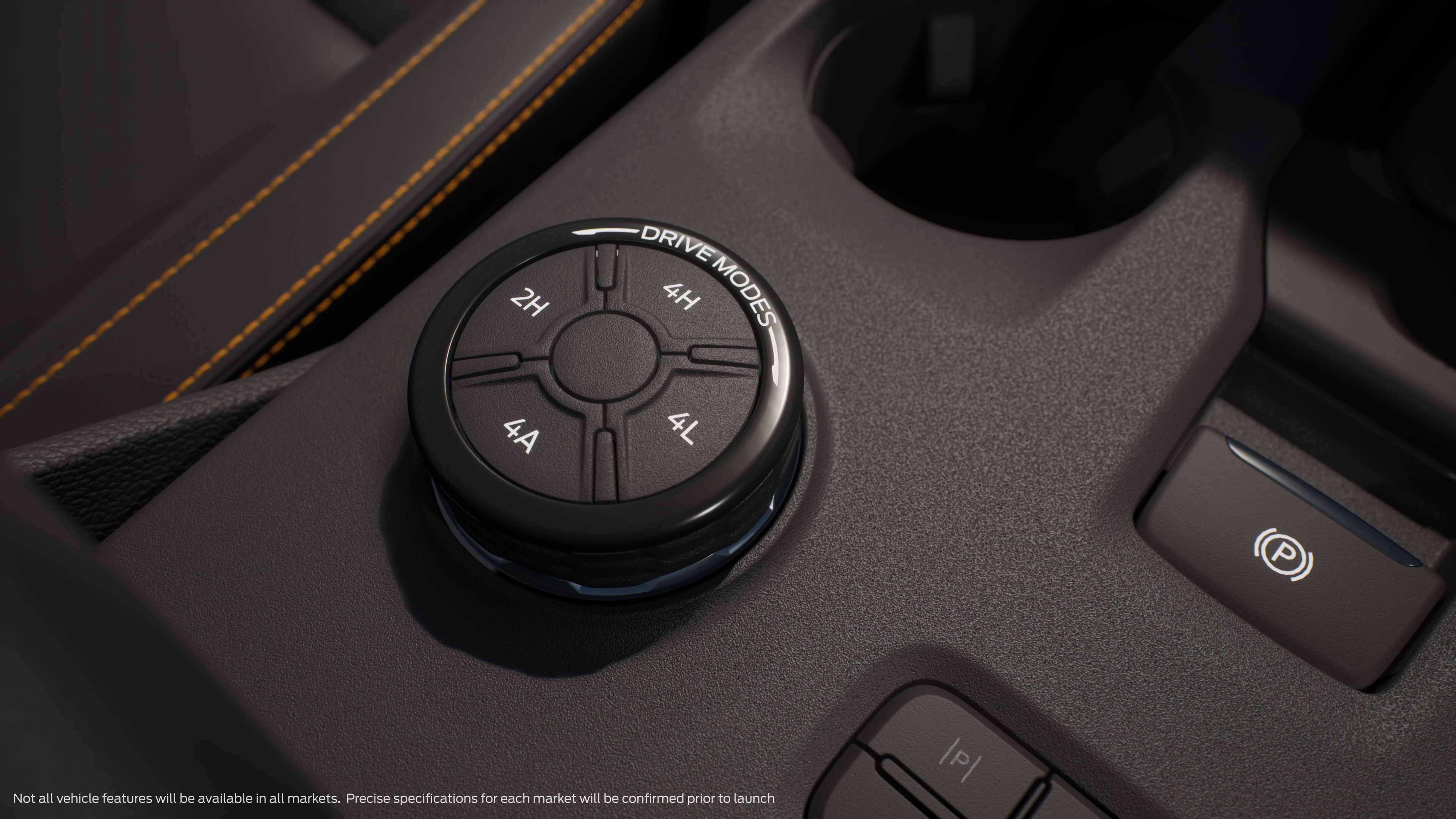 The benefit of 4x4 Auto is that it can be used on all roads including hard sealed surfaces where you couldn't normally use 4x4 in a part-time system. This is specifically beneficial on roads that change from sealed to gravel, snow and ice covered roads or even wet roads, and is especially beneficial when towing a load and you need to maintain control.
Readouts of off-road information will be available, although only on Sport, Wildtrak and Raptor grades.
For the Raptor model: two alloy designs are available for the 17-inch wheels, including one with beadlock capability which helps prevent the tyre from rolling off the rim when pressures are dropped to tackle off-road terrain. The tyre spec itself is unchanged from the previous Raptor with BF Goodrich all-terrain K02 tyres fitted as standard in Australia. Protect your new Next-Gen Ford Ranger with a wide range of Custom Off-Road bash plates, or perhaps a Bull Bars from Rival, Piak, Offroad Animal & EFS.  
At Brixton 4x4 Adventure, we have a huge range of Ford Ranger Next Gen accessories to shop online including;
* Ford ranger roller shutter * chassis cabs tow pack * towbars * rims
Check out more 4x4 Accessories for your Ford Ranger. We stock a huge range of Next Gen Ranger accessories.