Bash Plates: Everything You Need to Know about Underbody Protection
Protecting Your 4X4: Why You Need Bash Plates and What You Need to Know
Also known as undercar or underbody protection, skid plates, or protection plates, bash plates are an essential part to consider for any 4X4 enthusiast who is a regular off-roader.
The purpose of fitting a bash plate is to protect your underbody from any debris from flicking up into your vehicle or smashing into any rocks, logs, hard ground or sand from impacting the vital and important components of your vehicle.
They are typically made of steel or aluminium and are able to be installed on multiple underbody sections of a vehicle - such as on the front and rear differential, sump, radiator, fuel tank, and transmission of a 4X4.
You can buy individual plates for each area or purchase them as a set - perfectly designed to suit your 4X4.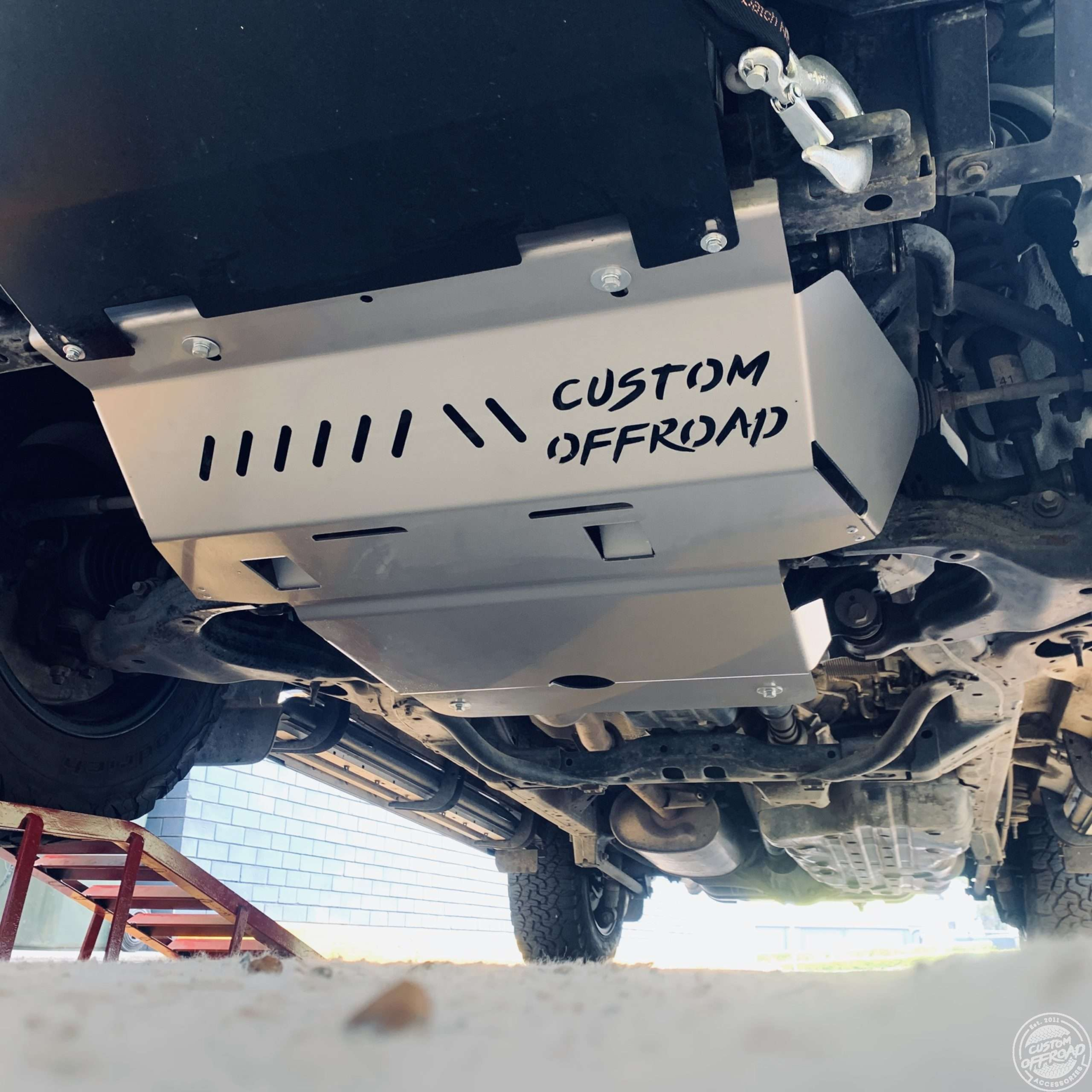 The Benefits of Bash Plates
We would recommend that the first thing you do before going on your offroad adventures is to fit bash plates.
The damage that can occur without them, coupled with the cost of recovery and repairs versus the purchase price is a straightforward tradeoff and an easy insurance to give you and your passengers peace of mind.
Bash plates:
Provide protection
Can save you from costly repairs
Make you a more confident off-roader
Protection
Whilst some 4x4's come with underbody protection plates that come out factory-installed, they are usually not built to withstand actual impacts that come with offroading.
Off-road driving can be tough on a vehicle, and bash plates can help prevent damage to vital components like the transmission, differential, fuel tank, and radiator.
Money
The potential for underbody components of your 4WD to be damaged and require replacement should be convincing enough for anyone to purchase underbody protection.
A bash plate can potentially save you thousands of dollars, if not an entirely new car.
Not only can replacement and mechanic costs be avoided, but also heavy expenses associated with tows and recovery if the 4WD becomes damaged or stuck in an area that is rural or hard to access.
Clearance and Travel
Fitting underbody protection allows your 4X4 to pass tricky 4WD tracks with more ease - you can be more confident that you can attempt that rocky track without being stranded and damaging your underbody components.
By protecting the underside of the vehicle, bash plates can help to prevent hang-ups and reduce the risk of getting stuck.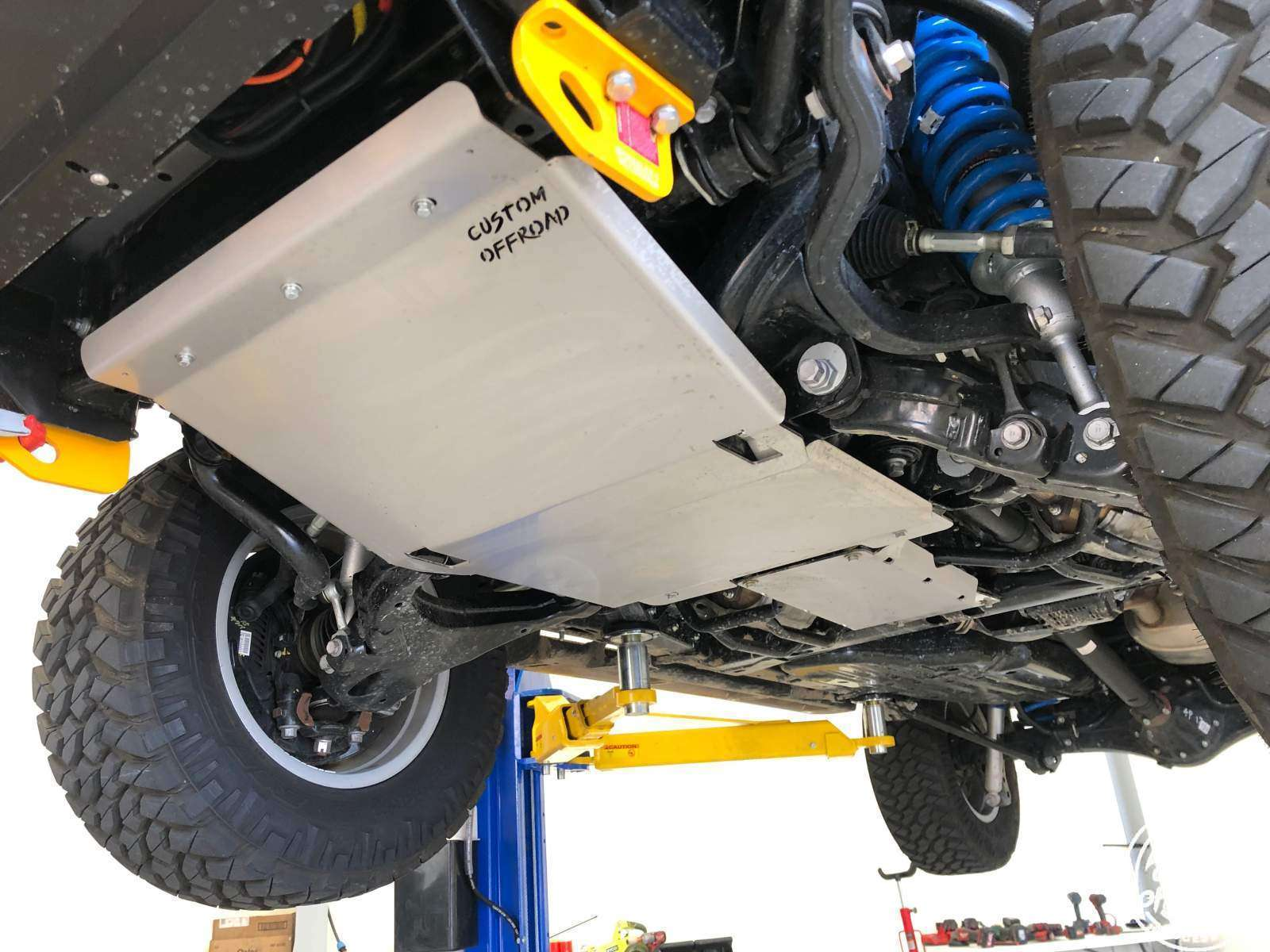 Are There Any Downsides?
There are always pros and cons to consider with any purchase - even with a bash plate.
Weight
As underbody protection plates are made out of metal, they do add an amount of weight to your vehicle. Custom Offroad plates can range from around 25-40kgs per plate. Depending on the thickness, the metal, and the number of plates you add to the 4WD can make the total weight quite variable. As with all 4X4 upgrades and additions, the weight you are adding to your 4WD should always be considered.
Cost
Bash plates are an insurance investment for your 4WD. While they can be considered a relatively costly upgrade--especially when they may require replacement after prolonged use--when considering the potential for other damages, you can see their value.
Maintenance
Most bash plates will restrict immediate access to parts of your underbody and will need to be removed to complete services or other vehicle maintenance or upgrades. With removal and refitment, you may see added labour costs to your mechanical bills.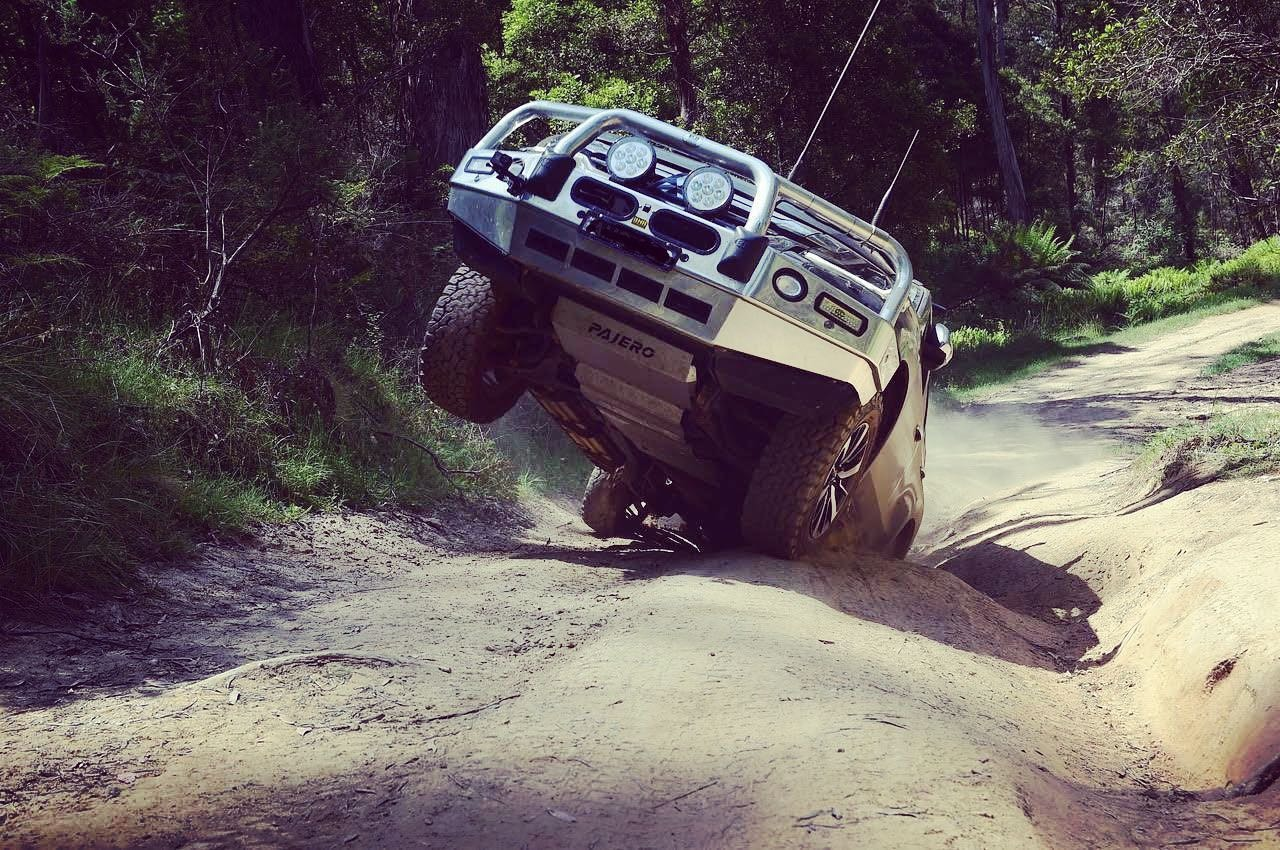 What to Consider When Buying Bash Plates
As there are both pros and cons to fitting bash plates, we have compiled all the considerations you should make in choosing your underbody protection.
Make and Model
Obviously, you want to make sure that the plates will fit perfectly to your 4WD and are designed to fit your vehicle. With so many makes and models of vehicles always double-check that you are getting the right product.
Weight
If you have a few upgrades already or extra additions on your 4WD it's worth considering the extra weight that bash plates will add to your vehicle. Knowing the GVM for your 4WD will help you make this decision.
Additionally, there are other upgrades that will ease added weight to your 4WD like lift kits and suspension upgrades.
Budget
Taking care of your 4WD does come at a cost. Bash plates can set you back around $200-$600 per plate and for a full set may cost you upwards of $1500 for premium quality stainless steel.
There are mild steel and aluminium options out there for a more budget option. But make sure that you are buying from a reputable and well known and tested brand, like Custom Offroad.
Material and Thickness
The most common metals used for bash plates are stainless steel, mild steel, or aluminium. All have particular purposes and are all good options.
Aluminium plates are thicker than most plates as aluminium is a softer metal, but they are a lighter option if weight is something you are trying to keep down. However, the cost of aluminium can be on the higher side.
Mild steel plates are usually around 3-4mm and are a good cheaper option, however, you may find that it rusts relatively quickly.
Stainless steel comes in the same thicknesses as the mild steel with the same strength but resists the corrosion that mild steel is prone to.
Activity
Bash plates are designed to protect your 4WD when offroading and adventuring. For any vehicle that does not partake in 4X4 activities, the weight and maintenance may outweigh the need to install them.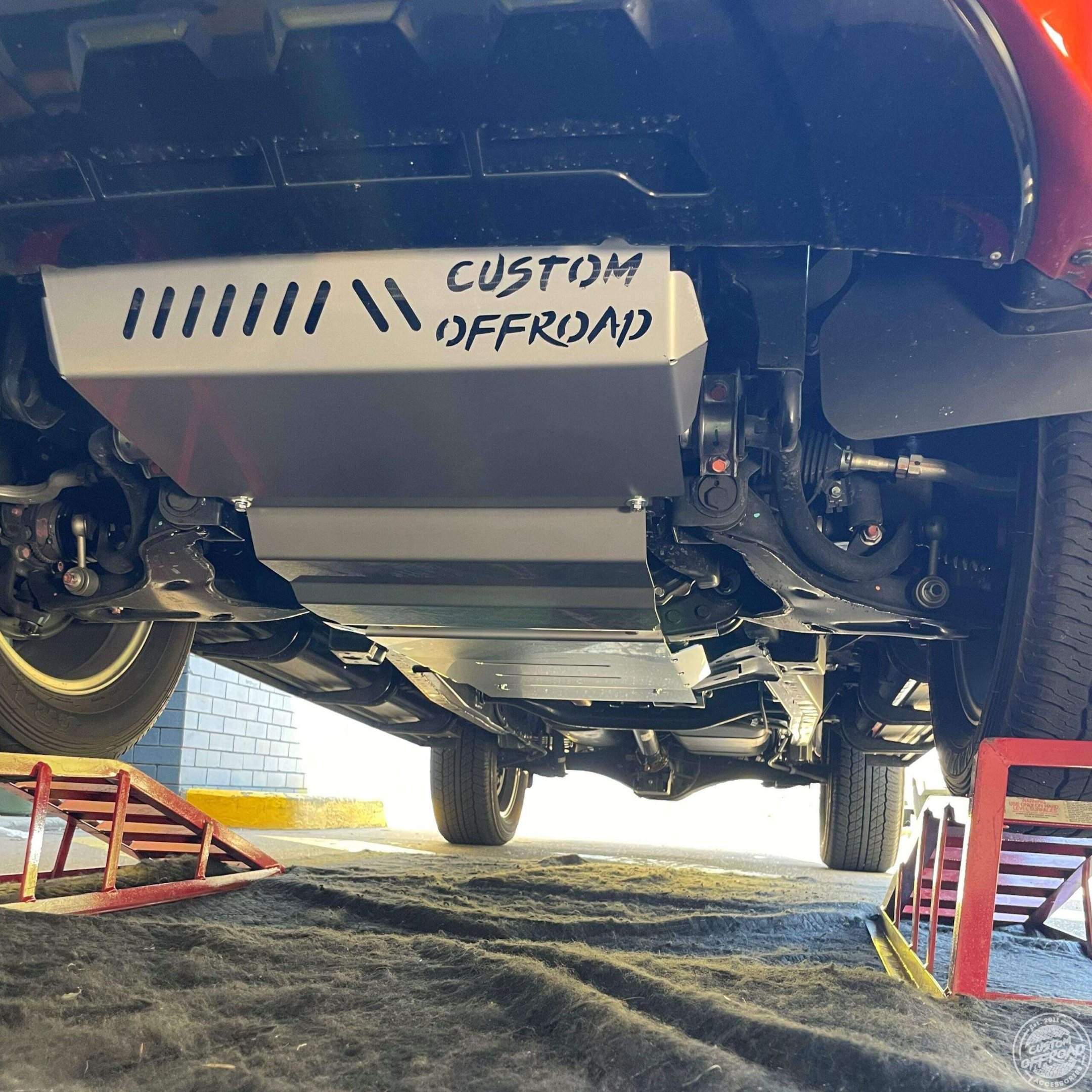 Custom Offroad Bash Plates
Custom Offroad bash plates are one of our best sellers, with over 10 years in the 4X4 market, they are well-known and loved by 4WD owners all over Australia.
With underbody protection plates available for a wide variety of 4X4's like the Ford Ranger (including the newer Next Gen!), Toyota Hilux, Nissan Navara, and Isuzu D-Max - they have you covered!
Custom Offroad gives you the option of choosing the thickness and metal type that you require based on your extracurricular offroading activities and vehicle type. Their plates are designed to take hit after hit so your vehicle will make it through its 4X4 adventure.
Giving you further customisation options, the plates can be custom painted and the Custom Offroad logo can be replaced with your vehicle make or other requested text.
In conclusion, the decision to install bash plates on a 4x4 is a personal one that will depend on your specific needs and preferences.
While bash plates can come with some potential drawbacks, including cost, weight, and reduced ground clearance they offer significant protection that may save your vehicle, and at the very least many thousands of dollars in repairs.
4x4 Bash Plates Available At Brixton 4x4
Consider your specific driving needs and budget before deciding which underbody protection plates will suit you.
Please don't hesitate to get in touch with our friendly team at Brixton 4X4 if you have any questions or require help in choosing the right option for you.