Aftermarket accessories & parts for the Volkswagen Amarok
Get your truck ready for outdoor adventures with the
VW Amarok
accessory and parts collection of outback equipment. Whatever your adventure, our range of
VW Amarok
accessories
are designed to make your vehicle more durable, comfortable and more stable. We have VW Armarook parts to the original 2010 Amarok up to the new 2023 models. 
We have a dedicated collection of Volkswagen Amarok accessories and 4WD aftermarket accessories, and if you are planning to go offroad don't forget to check out our article on the Outback Armour Lift Kits

 

blog.
WHEELS AND TYRES
Looking to upgrade your Volkswagen Amarok wheels, rims or tyres? Look no further as Brixton has a huge range of rims and tyres to fit your truck. The stock wheels on the Volkswagen Amarok usually has a high offset which leaves the rims sitting far inside the arches. Installed new VW Amarok Fender Flares for fitting bigger or wider tyres and wheels will come closer to the wheel arches, making your Volkswagen truck look more aggressive. Take this one step further and pair it with some fender flares as mentioned above. A range of rims and alloy wheels available for Volkswagen Amarok
We stock the following wheel and tyre brands;
Shop our range of VW Amarok Ranger Wheels here.
TAILGATE STRUTS & LOCKS
We have a selection of handy HSP products for your VW Amarok tailgate. 
 Make opening and closing your tailgate easier and safer with the HSP Tailgate Strust Assist kit for VW Amarok 2011-22 and HSP Tailgate Strut Asssit for VW Amarok NF 2023.
The HSP Tail lock is truly a revolutionary product allowing you to sync your tailgate with your existing vehicle remote. Installation takes less than an hour as there is no drilling required along with simple wiring.  
LIGHTING
4x4 driving and exploring the great outdoors is made easier in your VW Amarok when you have the correct lighting. Quality driving lights is one of the most important accessories you require when exploring off-road. 
We stock the following lighting solutions:
FENDER FLARES
Thinking of going bigger with your tyres and wheels? Getting a set of off set fender flares is a must have upgrade. The biggest benefit of fitting a set of fender flares is the ability to get a larger guard size and therefore fit larger and wider wheels on your VW Amarok. Overall, off set fender flares are an excellent Volkswagen accessory for any truck. They'll make your truck look more aggressive plus have the added benefits of protecting your vehicle from mud, rocks and debris. Fender flares come in matt black or you can even get the flares colour matched to your vehicle. 
We stock reputable brand EGR which are designed and manufactured in Australia and offer the best in-class design and quality for your VW Amarok. 
SNORKELS
We stock 2 snorkel designs by the reliable brand Safari & Safari ARMAX snorkels. These durable and reliable 4x4 aftermarket accessories combine excellent function for a unique look.
Safari snorkel
is built using bespoke bench construction which increases air circulation by 25% or 70%. Safari snorkels are among the best options for handling rough weather. This snorkel prevents water entering a car's engine. The engines in
 VW Amarok v
ehicles are equipped with cooler and cleaner air. Install a
snorkel
in your Amarok today!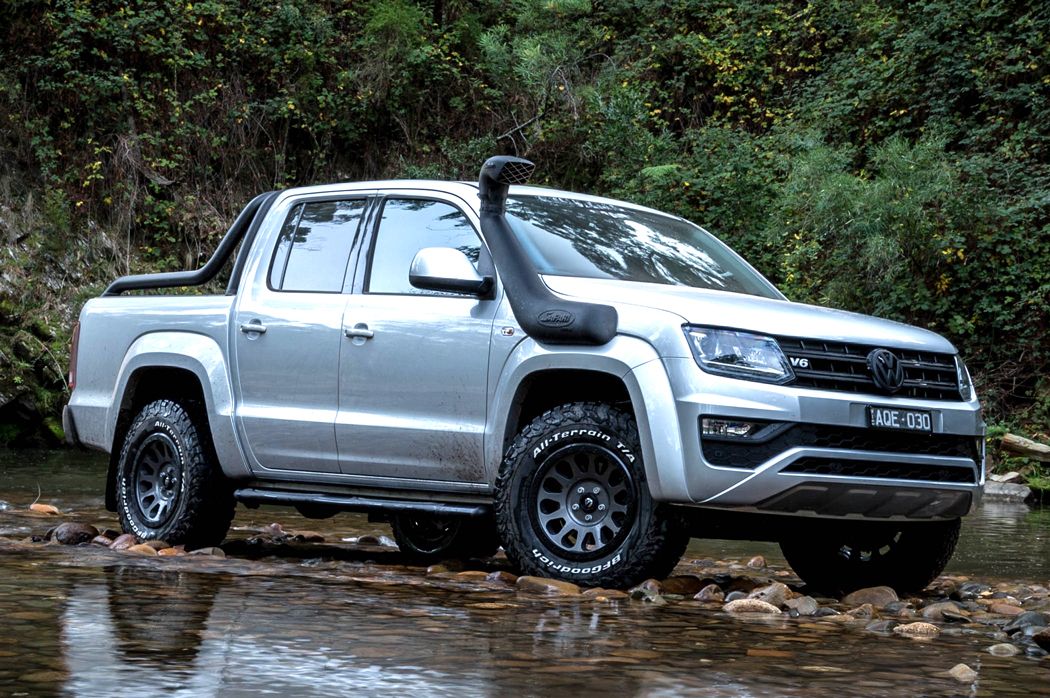 4x4 Underbody Armour For Off-Roading
If you are hitting the rough roads or off-roading, you need protection for your
VW Amarok
underbody from rocks, logs and other objects that may intrusion into the vehicle engine and transmission. See our selection of skid plates, bash plates, brushed plates and under-body protection for your
VW Amarok
.
We stock heavy duty brands from
Custom Offroad, EFS &

 

Rival
. Get your protection for your
Volkswagen 
Australia today!
TAILGATE REMOTE CENTRAL LOCKING
Put your mind at ease and protect your valuables by installing a tailgate remote central locking system. The HSP Tail lock is truly a revolutionary product allowing you to sync your tailgate with your existing vehicle remote. Installation takes less than an hour as there is no drilling required along with simple wiring.  The Tail Lock gives peace of mind knowing that when your Volkswagen truck is locked, so is the tailgate. This remote locking kit is perfect for SUVS and commercial vehicles. A must have Volkswagen Amarok accessory. The Tail Lock kit is affordable and prices start from just $249. 
TOWBARS
Rig out your VW Amarok with a heavy duty towbar and tow your boat, trailer or caravan with ease and comfort. We stock TAG heavy duty towbars which are designed and manufactured in Australia to endure the most stressful road conditions and stand up to the toughest Aussie environment. TAG Heavy Duty Towbars are designed and manufactured in Queensland, Australia. Sporting a sleek black powder-coated finish for style and protection as well as 50mm x 50mm Square Hitch Receiver. Perfect for the Amarok or commercial owner. Pair your towbar with a trailer brake controller.   We also stock a range of electric trailer brakes from Elecbrake and Curt.
TAG towbar specifications;
Utilises factory mounting points for ease of fitment
Durable, heavy duty powder-coated finish.
Class 4 Receiver - 50mm Hitch
TAG Limited Lifetime Warranty
Towbar includes - ballmount, pin & clip and dshackles
THROTTLE CONTROLLER
Want to take your VW Amarok to the next level? Why not install a throttle controller to your truck. A throttle controller is basically a device that that is responsible for catching the signal between the accelerator pedal and the engine management. It is also known as a booster throttle controller. From our experience, we think a throttle controller is well worth the money. It will make for a really fun and exciting ride with more control. Throttle controllers are very popular with 4×4 and SUV drivers, who venture off road, and in vehicles which tend to have sluggish acceleration. They are ideal for towing vehicles, which require extra responsiveness when carrying a heavy load. 
We stock the EliteDrive Throttle Controller for the VW Amarok. Elitedrive Throttle Master is a premium quality, easy installation Plug n Play device for Passenger, SUV, and Light Commercial vehicles, that provides you with absolute control over your vehicles throttle response. By electronically presenting your VW vehicle's throttle with a range of new mapping reference points, you can introduce more or less throttle response by simply selecting your preferred model. You will feel immediate benefits to the rate of acceleration and decreased throttle lag to provide you with the ultimate driving experience. Available from $249. 
We also stock the EliteDrive Power Modules to suit the VW Amarok. 
SIDE STEPS
The EFS Side Steps are a perfect upgrade from the weak Volkswagen factory steps. The EFS side rail range has been designed and developed in Australia to suit our harsh climate and conditions. All our side rails are made from high-quality, heavy duty steel and powder coated with Endura Coat for added protection. Get your new side steps for your VW Amarok.  
BUMPER BARS
We offers a great range of bull bar, bumper-bar and nudge bar models for your Volkswagen, the
Rival 4x4
& EFS 4x4 Accessories. Rival bumper is an innovative new 
VW Amarok accessory
. It increases the durability, style, and maneuverability off-road of the
VW Amarok
. The Rival bumpers are made in Russia and include anchor points, LED lighting, are winch compatible and come with a flip license plate cover to access installed winches.
The EFS 4x4 Accessories range of
bull bars & bumpers
are design in Australia for our harsh and varied environment & Australian market. Featuring the Pioneer Bull Bar, sturdy and popular Stockman Bull Bar and their newest addition the
Xcape Bumper
. All the range of EFS ranger bull bar can be fitted with LED light bar, spot lights or winches. Check out our range of
VW Amarok
bumper bars
here.
So, if you're looking for a VW Amarokr bullbar, light bars to suit a VW Amarok or any other NF Amarok modifications, you've come to the right place.   
Can't find what you are looking for?  Speak to one of our team via online chat or visit our 4x4 Accessories page. 
If you have a Holden, check out the Holden accessories page for some great deals! We have a huge range of Mazda aftermarket accessories, including the popular BT-50.