How to Enhance your Vehicle's Performance with a Throttle Controller
All About Throttle Controllers
In today's thriving automotive market, you may be looking for the newest and best upgrade that will take your vehicle's driving performance to the next level. Let us explain what throttle controller devices are available and exactly how they work.

Are you looking for more power, control and response for your vehicle? Perhaps you've heard of throttle controllers or power modules before but don't know what exactly they, how they work or how they could benefit your specific vechicle.
Briefly, throttle controllers like the EliteDrive
Can eliminate accelerator pedal lag 
Gives you full control over the responsiveness of the accelerator pedal
Improves drivability of your vehicle when towing
Offers an overall better, customised, and enjoyable driving experience
Find out more below as we explain all your questions about throttle controllers below or click the topics below to take you to a specific section.
What is a Throttle Controller?
How does a Throttle Controller work?
Features and Modes of a Throttle Controller
Throttle Controller Comparisons
How to Install a Throttle Controller
What is a Throttle Controller?
A throttle controller is a small, electronic tech device that sharpens or softens a vehicle's throttle response by modifying the voltage signal from the fly-by-wire pedal assembly. As the driver, you can then tune the response from the accelerator pedal and reduce, or even eliminate, the throttle accelerator lag.
Accelerator lag happens when you put your foot down on the accelerator pedal and you get a very slow response from the vehicle's engine. This is not only very frustrating, especially when trying to overtake other vehicle's or merging into fast travelling traffic on the highway. This slow take off can be dangerous in these situations.
In contrast to increasing the throttle response, some throttle controllers may offer a decrease in throttle response mode which is ideal for 4x4 owners. This decrease in respose can offer fuel economy savings and a more gentle control of your 4X4 in tricky offroad situations.
The EliteDrive Throttle Master throttle controller provides enhanced speed but better performance and control in off-roading and towing conditions, providing your car with ultimate throttle response.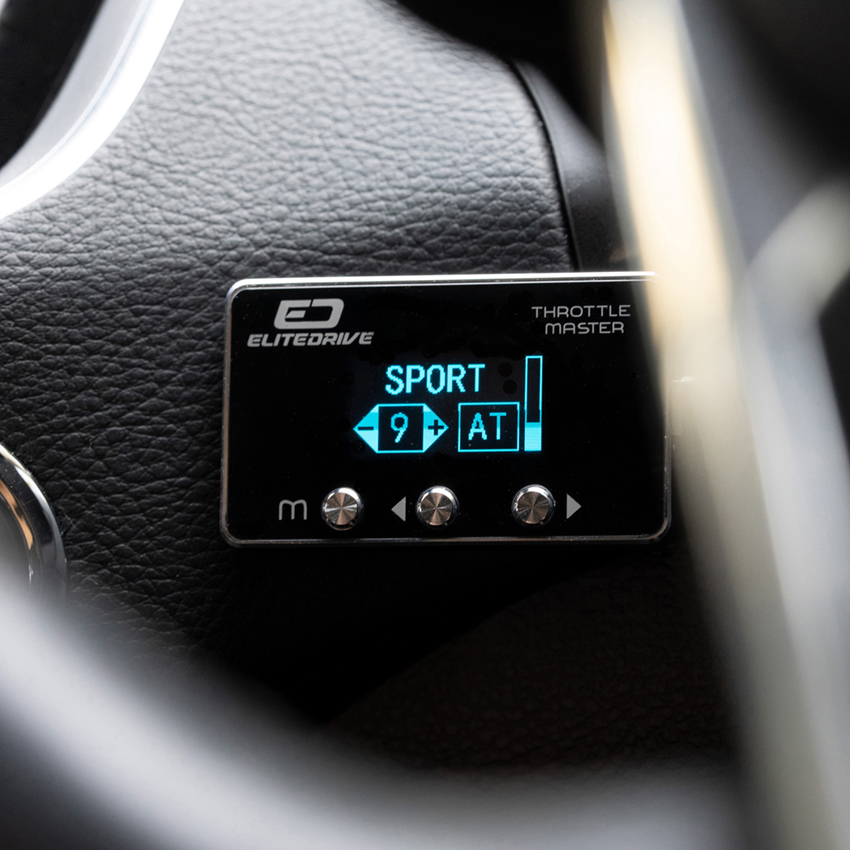 How a Throttle Controller works?
With the EliteDrive Throttle Master throttle controller, you will feel the power by allowing your car to unleash its full potential through the throttle controller's reponse. The great thing about the EliteDrive Throttle Master throttle controller, is that you can customise your throttle response to fit your vehicle type. Throttle control systems offers a new location for throttle maps and a new way for vehicle drivers to modify torque requests to throttle tables. Your throttle response thus has the potential to change with enhanced or softer feel, ultimately reducing throttle lag, allowing for total adaptation of the vehicle for all conditions. Other features of the EliteDrive throttle controller include; elimination of throttle lag, faster engine response, maximum throttle enhancement, sharper pedal response, improved fuel economy and lock mode for security.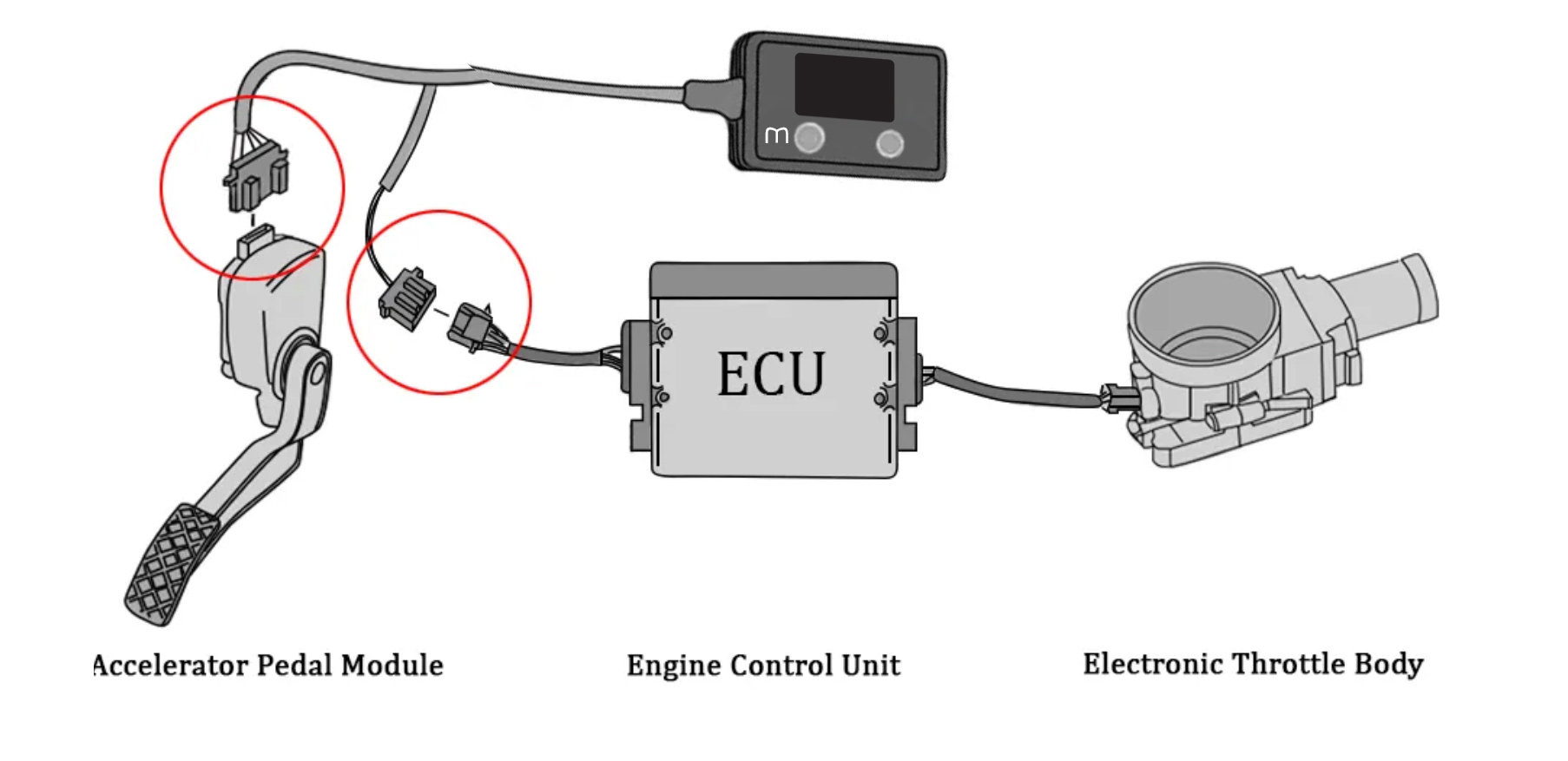 Throttle Controller Features and Modes
The superior EliteDrive throttle controller has 9 acceleration modes and 70 throttle settings.  This provides drivers with multiple options to enhance performance, run more economically, provide more response and safety under heavy tow or power up around town.  Most throttle controllers are very easy to use, with just one touch of a button to the next mode. To tune the throttle response, the arrows can be used to toggle up or down. Fine tuning your vehicle's throttle response has never been easier.
The EliteDrive Throttle Master has a range of modes that include Road, Sport, Race, 4x4, Towing, Economy, iAutomatic, Overtake Boost and even a Throttle Lock mode for added vehicle security. Whether you drive a Petrol, Diesel, Hybrid, PHEV or even a Tesla, driving becomes so much more fun, enjoyable and safer with a throttle controller installed. Turn the daily grind into a fun drive in Sport Mode or switch to Eco Mode for around town fuel savings that help generate less carbon footprint. You can turn any mode into ultimate mode with the throttle controller. Change driving modes is simple, with a one push button on the dashboard interface.
Road, Sport & Race Modes
In Road Mode, there's a nice acceleration benefit that will bring a smile on the test drive. Sport Mode is a more aggressive throttle map again. In Race Mode, expect to be thrown back in your seat, even in a small car. There are 10 levels of adjustment for each mode, vastly improving factory throttle settings.
Perfect for Towing
One of the exclusive modes is TOW Mode. This setting delivers unparalleled levels of torque delivery when you need it while driving with a heavy load. This mode was developed to make towing easier and ultimately safer.
Master Offroad in 4x4 Mode
When driving offroad, the biggest issue can be too much power or torque delivered at the wrong time. In 4x4 Mode you'll find there's a lot more control over the delivery of every hp, and you'll avoid surging when driving over bumpy ground.
Fuel Savings (Eco Mode)
Driving in town with lots of stop/start traffic causes us to use more fuel than necessary when accelerating away from the lights. In Economy Mode, you'll be able to more carefully meter the fuel use and use less fuel as a result. There's 10 levels of adjustment in Economy Mode to suit your driving the best.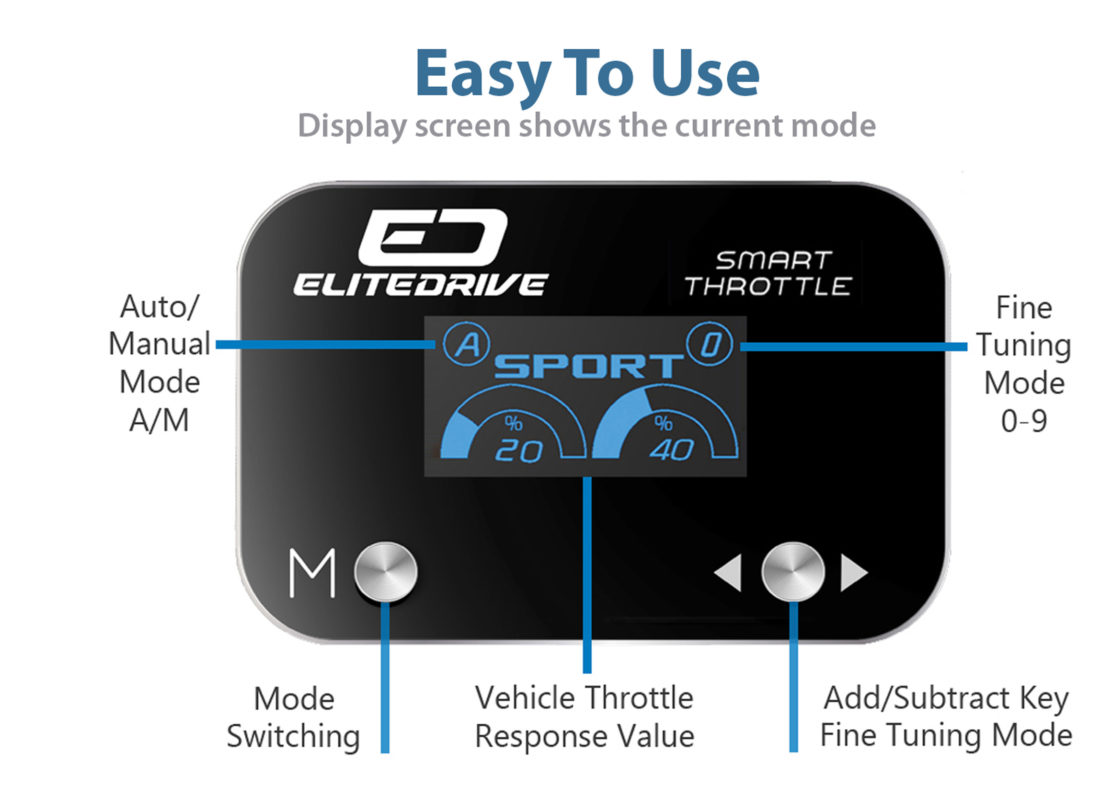 Throttle Controller Comparisons
As you're probably well aware, there are many other throttle controllers on the market today to choose from. Other popular brands include the EVC iDrive Throttle Controller, EVCX Ultimate9 Throttle Controller, the HIKE IT XS Throttle Controller, FreePower S Drive Flat throttle controller, and the 9-Drive Electronic Power Controller. Most of these throttle controllers will assist with throttle response, may have automatic control mode, and somewhat enhance driving style. However, the EliteDrive's Throttle Master throttle controller really ticks all the boxes when comparing to other brands on the market. With 9 driving modes, this device gives drivers more options and flexibility when it comes to vehicle performance.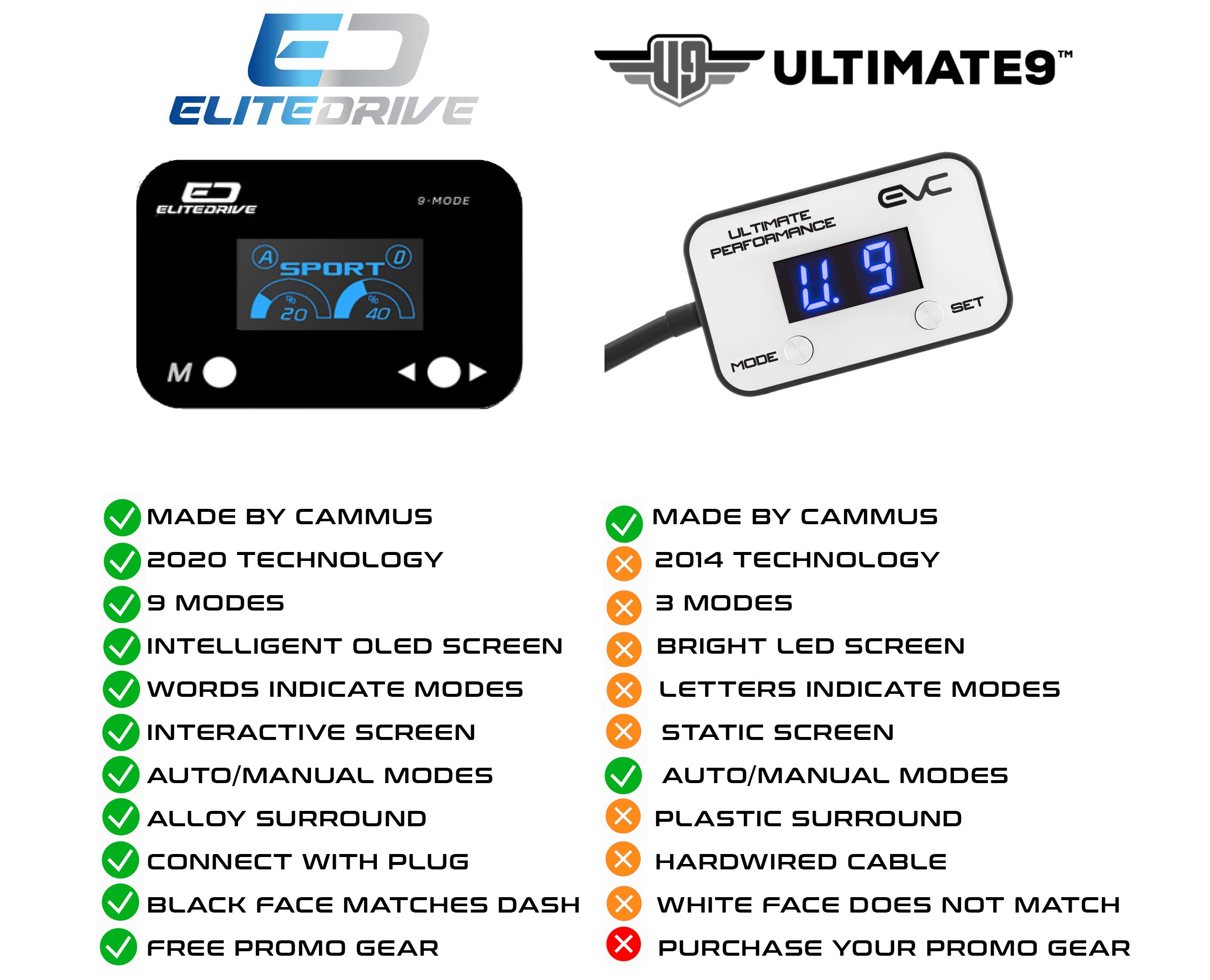 How to Install a Throttle Controller
The EliteDrive's Throttle Master throttle controller is super easy to install and could be used as plug and play tool. It can be installed in under 15 minutes and the best part is there are no modifications necessary to your vehicle. No tools are required, no cutting of wires and no mechanical knowledge is needed. Simply remove the throttle cable and secure the controller into the pedal. You can then install drivers interfaces straight onto the dash. It's the world's easiest to install Plug and Play device designed to connect with original style connectors and integrate seamlessly. Once installed, the unit is self powered and sticks to your dashboard wherever you choose with the in-built double sided tape on the unit.
Conclusion
It's certainly easy to see what the EliteDrive's Throttle Master throttle controller is the best on the market and smashes others brands in comparison. It's super easy to install in under 15 minutes and is excellent value for money at only $229. With 9 modes and 70 throttle settings, this is certainly a superior throttle controller. Whether you're towing a caravan or going 4X4ing on the weekend, the throttle controller is an amazing, must-have product for any vehicle. The throttle controllers can fit most vehicles such as the ever-popular Ford Ranger, Isuzu D-Max, Toyota Hilux, Toyota LandCruiser, Mazda BT-50, and many more.
Brixton 4x4 Adventure stocks all the EliteDrive throttle controllers to suit your vehicle. We also have a huge range of power modules available to shop too. Take advantage of our free shipping offer when you purchase an EliteDrive throttle controller now!