Unleash the Adventure with Oxley Bullbars
Welcome to Brixton4x4, where we fuel your offroad passion! If you're a thrill-seeking 4x4 enthusiast who craves adventure, you're in for a treat. Let's dive into the world of Oxley Bullbars and discover what sets them apart, making them your ultimate choice for offroad conquests.
The Oxley Advantage: Elevate Your Adventure
Oxley Bullbars redefine offroad protection with a host of exciting benefits that go beyond the ordinary:
1. Unrivaled Durability
Unlike other bullbars, Oxley's are born tough. Crafted from high-strength materials, they can take a beating while safeguarding your 4x4. No matter the terrain, Oxley Bullbars are built to last.
2. Precision Engineering
Oxley Bullbars are engineered with precision, ensuring a perfect fit for your specific vehicle model. This means no compromises on safety or aesthetics. They seamlessly integrate with your 4x4's design.
3. Adventure-Ready Design
Designed by offroad enthusiasts for offroad enthusiasts, Oxley Bullbars combine rugged aesthetics with practicality. They not only protect your vehicle but also make a bold statement on the trails, turning heads wherever you go.
4. Enhanced Offroad Performance
Ready to conquer challenging terrains? Oxley Bullbars enhance your 4x4's offroad capabilities. They provide crucial protection against obstacles, wildlife, and rough conditions, allowing you to explore with confidence.
5. Wide Range of Vehicle Compatibility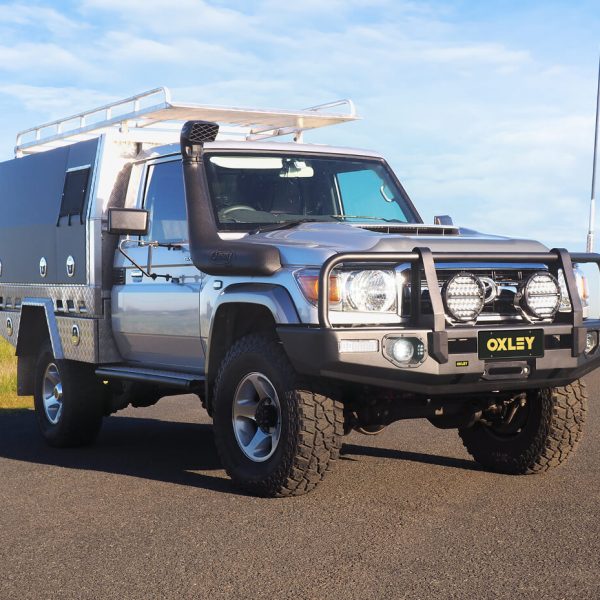 Oxley Bullbars aren't one-size-fits-all. We offer a wide range of bullbars tailored to specific 4x4 models, including:
6. Australia-Wide Delivery
Wherever your offroad adventure takes you in Australia, we've got you covered. Brixton4x4 offers fast and reliable nationwide delivery so you can get your Oxley Bullbar no matter your location.
Experience the Difference
Now that you've discovered the thrilling benefits of Oxley Bullbars, it's time to take your 4x4 adventures to the next level. Embrace durability, style, and performance like never before.