Suits Vehicles
FORD EVEREST 2015 TO 2022
FORD RANGER PX2 and PX3
FORD RAPTOR
ISUZU D-MAX 2017-2020
ISUZU D-MAX 2020 ONWARDS
Isuzu MUX 2017-2021 
MAZDA BT-50 2013-2020
PAJERO SPORT QE
PAJERO SPORT QF
TRITON MQ 2015-2018
TRITON MR 2019 - ONWARDS
TOYOTA FORTUNER 2016 - 2020
TOYOTA HILUX 2016 -2017
TOYOTA HILUX 2018 - 2020
TOYOTA HILUX 2020 Onwards
Shop Now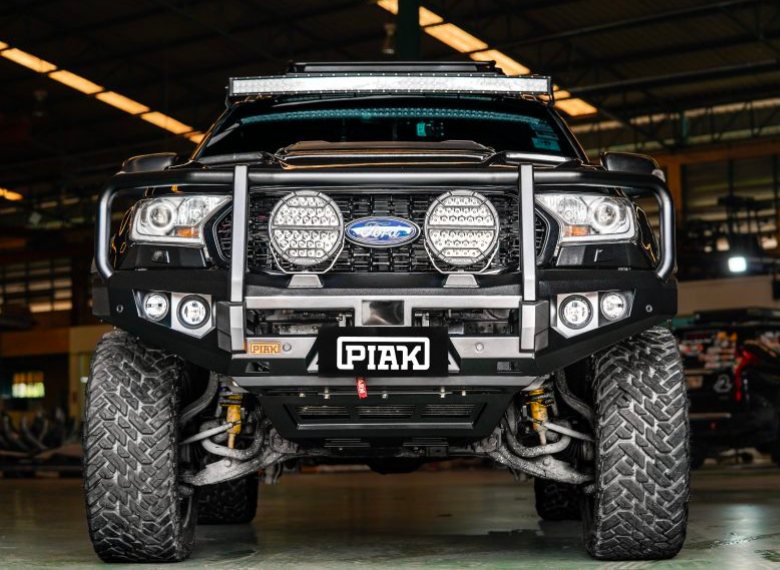 Elite Post Bull Bar
Vehicle Transformation: The Elite Bars don't just serve as bumper replacements; they redefine and amplify your vehicle's ruggedness, especially for popular models like the PX2 Ranger, Everest, Toyota Fortuner, and 2020 D-Max.
Built to Last: Constructed from high-strength, low-corrosion steel and adorned with a resilient matte black powder coat, the bar ensures durability and style for every trail.
Visibility On The Go: Comes integrated with halogen fog lights and indicators for those foggy terrains. Specific models may have varied light compatibility.
Performance-Oriented Design: Its multi-fold wing design promises strength and an ideal approach angle for those challenging off-road scenarios.
Winch-Ready: Each bumper is prepped with its winch compatibility and built-in mountings.
Optimal Airflow: The unique split front panel ensures your engine stays cool.
Tech-Integrated: These bars are fully Tech Pack compatible.
Assured Quality: Backed by a 2-year warranty.
Enhanced Utility Features: With twin high-lift jack points, aerial brackets, and mounts for additional lights, it's a comprehensive solution for all your off-road needs.
Safety First: Designed to be airbag compatible, prioritizing your safety on every adventure.
Shop Now
Suits Vehicles
FORD EVEREST 2015 TO CURRENT
FORD RANGER PX2 and PX3
FORD RAPTOR
ISUZU D-MAX 2017-2020
ISUZU D-MAX 2020 ONWARDS
ISUZU MUX 2013-2017
ISUZU MUX 2017-2020
PAJERO SPORT QE
PAJERO SPORT Q.F
TRITON MQ 2015 TO 2018
TRITON MR 2019 ONWARDS
MAZDA BT50 2013-2020
NAVARA NP300 Pre 2021
TOYOTA FORTUNER 2016 -2020
TOTOTA HILUX 2011 -2015
TOYOTA HILUX 2016 - 2018
TOYOTA HILUX 2018-2020
TOYOTA HILUX 2020 ONWARDS
Shop Now
PIAK NO LOOP BULL BAR
Designed for the dedicated 4x4 enthusiast and off-road adventurer, the PIAK Elite No Loop Bull Bar delivers unmatched protection and functionality. Below are its outstanding features:
Bumper replacements tailored for popular 4x4 vehicles including PX2 Ranger, Everest, Toyota Fortuner, and 2020 D-Max.
Constructed from high-strength, low-corrosion steel, coated in a durable matte black powder finish.
Inclusive of halogen fog lights and indicators. (Note: PX2 Ranger and Everest lights are sold separately; Toyota Fortuner and 2020 D-Max utilize OE Fogs).
Multi-fold wing design ensures strength and an optimal approach angle for challenging terrains.
100% winch compatible with dedicated winch mountings for seamless integration.
Features a split front panel to promote maximum engine airflow during intense off-road sessions.
Full compatibility with Tech Packs, ensuring modern vehicle tech integration.
Backed by a robust 2-year warranty.
Equipped with twin high-lift jack points for enhanced utility.
Pre-set mounts for additional light bars and driving lights, catering to night adventures.
Designed to accommodate OE front parking sensors. Ensures safety without compromising style.
Airbag compatible mounting system ensures safety remains a top priority.
When featured in promotional images, these bars come fortified with Front Towing Points.
Ready for your next off-road journey? Gear up with PIAK's top-tier protection!
Shop Now
PIAK Bull Bars - at Brixton4x4.com.au
Drive with confidence and style with PIAK Offroad's premium range of bull bars. Designed for the ultimate 4x4 protection, our bull bars seamlessly integrate with a range of vehicle makes and models, ensuring a perfect fit for your off-road adventures.
Compatible Vehicles:
Toyota Land Cruiser
Ford Ranger
Nissan Patrol
Mitsubishi Pajero
Jeep Wrangler
(Note: This is a general list. For a complete list of compatible vehicles, please visit our website or contact our customer service.)
Features:
High-Strength Steel Construction: Ensures durability and maximum protection.
Advanced Underbody Protection: Shields critical components from potential hazards.
Seamless Integration: Designed for a perfect fit, complementing your vehicle's aesthetics.
Integrated Mounting Points: For lights and aerials, enhancing functionality.
Rust and Corrosion Resistant: For long-lasting performance in challenging terrains.
Delivery Information:
We proudly offer nationwide delivery across Australia, ensuring your PIAK Bull Bars reach you promptly and securely. For more details on delivery times and charges, please refer to our shipping policy.
Gear up for your next off-road adventure and give your 4x4 the protection it deserves with PIAK Bull Bars. Shop now on Brixton4x4.com.au.